An inhumane and brutal act of violence against an endangered animal – a leopard – has been reported in Abottabad. It has left many upset and raises questions on wildlife treatment in Pakistan.
What Happened?
A leopard had wandered into a more human-populated area in Palak, Abottabad, KP. As is the case, many endangered animals and wildlife are found in the area of KP as it is a mountainous region. They have their habitats and can often wander to other regions.
However, a group of men passing by spotted the animal and acted barbariously. As videos can show, the leopard was actually scared of the humans. It was hiding and it did not attack the humans as is being claimed. The main person also claims he was attacked which goes against what the evidence – the video – shows.
The men, however, proceeded to corner it and kill it. The worst part is that they chopped off its paws as well to keep as a trophy.
Footage from The Scene 
These videos were captured by someone witnessing the scene. The fact that they did not stop it also makes them complicit in the crime. Beware, the faint-hearted or animal lovers should not watch this!
A leopard killed and a man left with serious injuries as a result of human wildlife conflict in Palak,Abbotabad,KPK.Please ignore the rumours that leopard attacked the man،Video clearly shows the leopard in hiding when it's actually attacked by these men after it had pic.twitter.com/47TALxIDX3

— save the wild (@wildpakistan) March 30, 2021
What Has Been Done About It?
Wherever the case is being reported or covered, people are only horrified. Not at the fact that the leopard had wandered into a human-populated space, but how they killed it for no reason. People are condemning the men for their act.
Ya khuda, such an inhuman act.. why do people always choose violence over mercy.. 😢😰

— طہٰ فاطمہ (@mannmasttt) March 30, 2021
I see so many brutal animals attacking a beautiful creature.

— Awais Munawar (@IT_Waiz_ard) March 30, 2021
Moreover, three men who were identified have also been booked under Wildlife Act 2015. Under the act, people can face a year in imprisonment or a fine of Rs. 100,000 or both. Authorities report that they should have notified relevant authorities rather than taking the action into their own hands.
Is This New?
Pakistan is currently undergoing mass dog culling sprees in Karachi and Lahore. Playful, innocent and loving strays are being murdered in cold-blood and then tortured for no reason at all. NGO's such as JFK Animal Rescue and Shelter in Lahore and ACF in Karachi are working day and night to prevent these acts.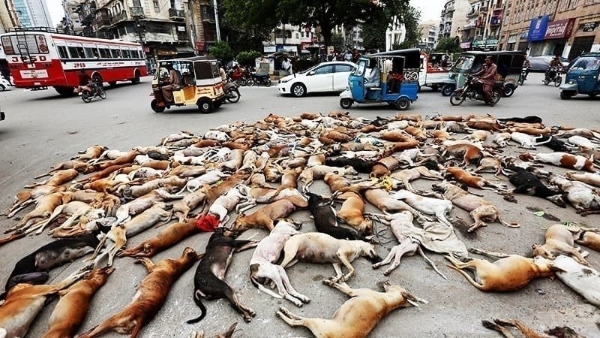 Pakistan's wildlife species have also entered into several endangered lists which includes this leopard as well. Killing them for trophies or fun actually disrupts the entire environment which is lost on people. As if killing the animal was not enough, his paws were chopped off as well which just shows how callous we are towards animals.
strayed into populated areas.Leopard only did what a wild animal is supposed to do in such situation!They later killed the leopard and hacked off his paws possibly as trophy!It's a sad incident.All they had to do was leave him alone and he would most likely have gone back to wild pic.twitter.com/8x1OPVlZOV

— save the wild (@wildpakistan) March 30, 2021
This can only stop when the government creates and implements laws for the protection of animals. We have a long way to go.
Stay tuned to Brandsynario for the latest news and updates.