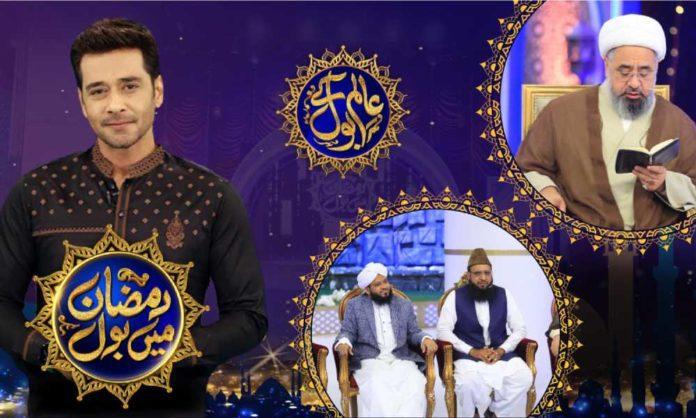 Ramazan is a month of reflection, introspection, and devotion for Muslims around the world. It is a time for prayer, fasting, and charity, as well as for strengthening one's faith and connection with Allah. Ramazan is also a time for community, as families and friends come together to break their fasts and share in the blessings of the month.
BOL Entertainment, one of Pakistan's leading television networks, is once again bringing the true spirit of Ramazan to viewers with its mega transmission "Ramazan Mein BOL". This year's transmission promises to be bigger and better than ever before, with a variety of programs and segments designed to engage, entertain, and enlighten audiences of all ages.
One of the highlights of "Ramazan Mein BOL" is the daily sehri and iftar transmissions, which feature popular hosts and celebrities discussing a wide range of topics related to Ramazan, including the significance of fasting, the importance of prayer, and the rewards of giving to charity. The sehri transmission also includes a variety of segments such as cooking demonstrations, health and wellness tips, and quizzes to keep viewers entertained and engaged.
In addition to the daily sehri and iftar transmissions, "Ramazan Mein BOL" also features a range of other programs and segments, including religious lectures, poetry recitals, and musical performances. There are also special segments for children, such as storytelling and art activities, to help them learn more about Ramazan and its significance.
One of the unique aspects of "Ramazan Mein BOL" is its emphasis on giving back to the community. Throughout the month, the transmission highlights the work of various charities and organizations working to support those in need, and encourages viewers to donate generously to these causes. BOL Entertainment has also partnered with several corporate sponsors to provide food and other necessities to those in need during Ramazan.
Overall, "Ramazan Mein BOL" is a must-watch for anyone looking to experience the true spirit of Ramazan. With its engaging programs, informative segments, and emphasis on community and charity, the transmission embodies the essence of the holy month and provides a meaningful and uplifting experience for viewers. Whether you are a devout Muslim or simply interested in learning more about Ramazan and its significance, "Ramazan Mein BOL" is sure to leave you feeling inspired and enlightened.