The opportunity to pursue higher education abroad can be a life-changing experience for Pakistani students. The Hungarian government offers scholarships for various programs, but to apply, certain eligibility criteria must be met. Let's break down the essential qualifications required for prospective applicants seeking this opportunity.
Citizenship and Academic Status
Citizenship Requirement: To apply for these scholarships, the applicant must be a citizen of Pakistan or AJ&K (Azad Jammu and Kashmir).
Educational Status: Applicants enrolled in the last year of their existing study programs or awaiting their final results are eligible to apply.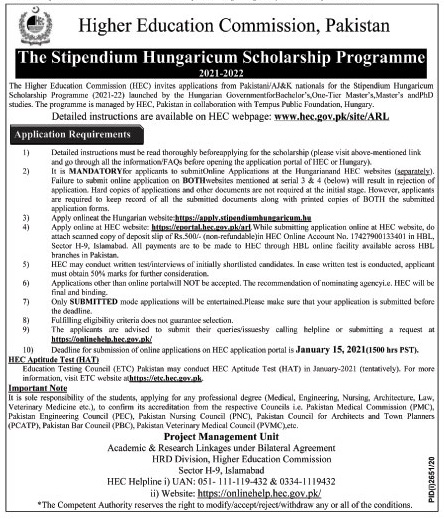 Program-Specific Qualifications
Bachelor's and One-Tier Master's Programs: Candidates must have completed their HSSC/Intermediate degree or equivalent by August 01, 2024. Failure to submit the final degree and transcript before the specified date will lead to the cancellation of the scholarship.
Master's Programs: Completion of a 16-year bachelor's or equivalent degree by August 01, 2024, is required.
PhD Programs: Applicants need to have finished a 17/18 years Masters/MS/MPhil degree or equivalent by August 01, 2024.
Other Essential Requirements
No Upper Age Limit: There's no upper age limit, but for undergraduate programs, applicants must be at least 18 years old by August 31, 2024.
Document Submission: All sections of the Hungary application form and HEC application form must be completed without leaving any field unfilled. Certificates/Transcripts/Degrees must be attested by relevant authorities.
Language Proficiency: IELTS/TOEFL scores are necessary as per the requirements of Hungarian universities.
Health Conditions: A medical certificate confirming good health condition is mandatory.
Commitment Bond: Successful candidates must commit to returning to Pakistan after completion of their studies for a specified period, as prescribed by the HEC.
Scrutiny Process and Ineligibility
Test Scores: Applicants must provide HAT or USAT test scores, with a minimum score of 50 out of 100. Initial screening is based on these scores.
Dual Citizenship: Individuals with dual citizenship are ineligible to apply.
Misrepresentation: Providing incomplete or false information will lead to disqualification, even after the scholarship is awarded.
The pursuit of higher education through scholarships abroad is a significant opportunity, but it requires meeting stringent eligibility criteria. Candidates should ensure they meet these qualifications and follow the guidelines for a chance to avail themselves of this academic endeavor.
Stay tuned to Brandsynario for more