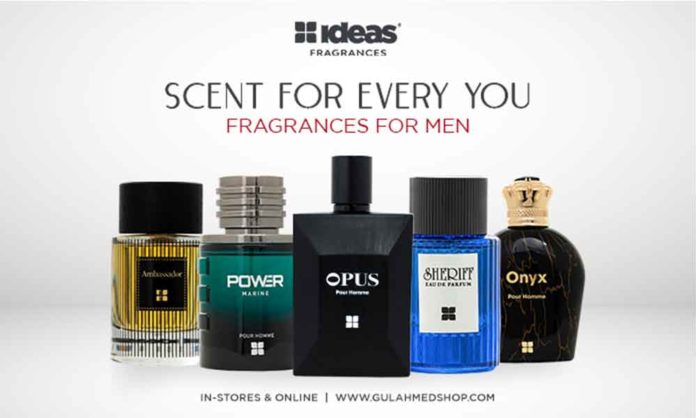 We are super excited to be sharing this news with our readers that; Ideas has launched its own line of perfumes! Ideas is the brand that we trust for all our fashion needs. One can only anticipate how unique, long lasting, pocket friendly, alluring and top-notch these perfumes will be. Today we are giving a sneak peak into what is in store for us in Ideas perfume category for men:
AMBASSADOR
This is a strong perfume, as the name suggests this fragrance is for the representative of success, happiness and fulfillment. This fragrance falls under the category of Chypre leathery and oriental. The prominent fragrance in it is that of pepper and violet. The cypress base makes it an ideal choice for everyday use. This is a long-lasting fragrance hence ideal for morning use. The base of this perfume is styrax, Cypress and Incense all that are enough for you to bag compliments for your perfume choice. Use it once and you will be hooked for life!
OPUS
Here is another mesmerizing fragrance for men. Its base is of amber, cedarwood, incense and suede. This perfume falls under the category of woody aquatic green. This perfume is for men who demand authority and know how to carry it in a crowd. It is sure to leave a lasting impression on people around you. It is ideal for office use and for occasions that you want to leave a lasting impression. This is sure to become your signature perfume once you use it. It is available in a 100 ml bottle.
POWER MARINE
This fragrance has a unique feel of lemons and oranges and falls in the category of fresh aromatic. It is a soft perfume. It is for men who want the best of everything in life. Its base is of amber, moss, sandalwood, vanilla and musk. This is a perfect combination of ingredients for a perfect perfume for HIM. You are sure to draw attention your way wearing Power Marine. This makes an ideal gift for your near and dear ones.
JOURNEY
This is a mild perfume yet leaves a lasting impression. It belongs to citrus woody musk family of fragrance. It is for men who know where they are heading and they have the entire plan ready in front of them. This is the fragrance for men who are ready for discoveries in life. The base note of this perfume is that of cedarwood, amber wood and sandalwood. This combination gives it a unique fragrance which is sure to become your signature. It is both for morning and evening use. It is a perfect gift for the man in your life.
INSPIRATION:
This is a strong perfume launched in this series. It gives the wearer a confidence boost and enhances the personality. The top notes are that of rum and bergamot which have a masculine touch to them. This fuses with the fragrance of lavender further blending into the base fragrance of chestnut, vanilla and cedar which leave a lasting effect. It is ideal for morning use as the fragrance will stay with you throughout the day.
Now that you have an insight as to what is in store for you; we are sure to see you at the Ideas store near you to buy these fragrances not only for yourself but for all those you love and admire in life. Because there is no better gift than the gift of a fragrance and that to by Ideas! You can order them online as well! Delivery is FREE on orders of Rs 2000 and more.