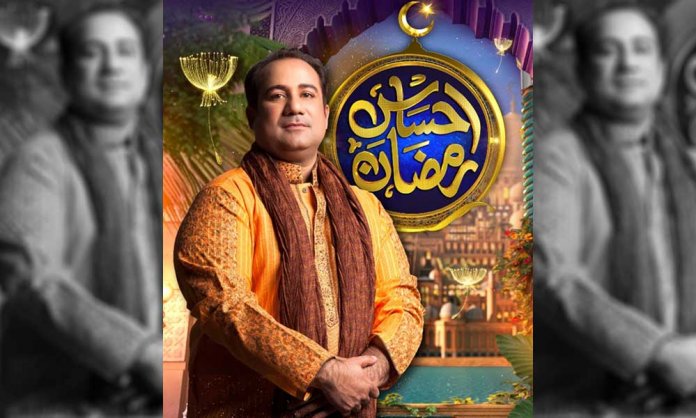 Focused on the real meaning of Ramzan, HarPal Geo has come out with the "Ehsaas Ramzan" transmission this year. Every Ramzan Geo comes up with a special motive to focus on through the holy month and leaves the audience with some new thoughts and new teachings.
Last year GEO focused on Ittehad Ramzan, but this time the inspiration is more aligned with the spirit of the month. "Ehsaas" connects all the teachings of Islam and Ramzan in a holistic way.
The program promotes a message of sharing, generosity, and patience. Geo TV's transmission was much appreciated after its first airing on 7th May i.e. the first of Ramzan. Geo will continue to air Ehsaas Ramzan during the days throughout the month.
For the first time ever, Geo TV also arranged a Namaz-e-Bajama't for more than 300 on-set people – which is a huge achievement. It also shows that their devotion towards religion and humanity is real and that they practice what they preach. There are many celebrities also that make the program interesting for the audience.
Featured personalities also include well known Islamic scholars imparting their knowledge in this blessed month. These include Allama Kokab Noorani, Naat Khawan Syed Fasihuddin Soharwardi, Doctor Mufti Imranul Haq Kalyanwi, Farhan Ali Waris and the cooking expert, Naheed Ansari.
The program has been created beautifully keeping it interesting and informative at the same time. The host and the crew of Ehsaas Ramzan cover every aspect of a normal Muslim's life.
The show also features cooking, guidance from Ulmaa, recitation of Holy Quran and Naat as well as Islamic and general knowledge quizzes. It is informative, influencing and moreover absorbing. With the main theme of recognizing and fulfilling our social responsibility towards the community, this show is exactly what our nation as a whole, truly needed.
The idea of an OST for the Ehsaas Ramzan transmission and its purpose was another triumph for Geo TV. The song has been sung and composed by the very talented Rahat Fateh Ali Khan.
The instrumental theme of the song also plays in the background during the whole transmission. The video itself is extremely deep, profound and heartwarming. The collaboration of Rahat Fateh Ali Khan and Geo TV is definitely going to make this Ramzan tradition stay with us for a while.
Ramzan is the most extraordinary month which provides us the opportunity to think, repent and rectify ourselves. It teaches us to be humble and kind to people who need our support and attention.
Hopefully, Ehsaas Ramzan will prove to be an educational and absorbing experience for the public this Ramzan.