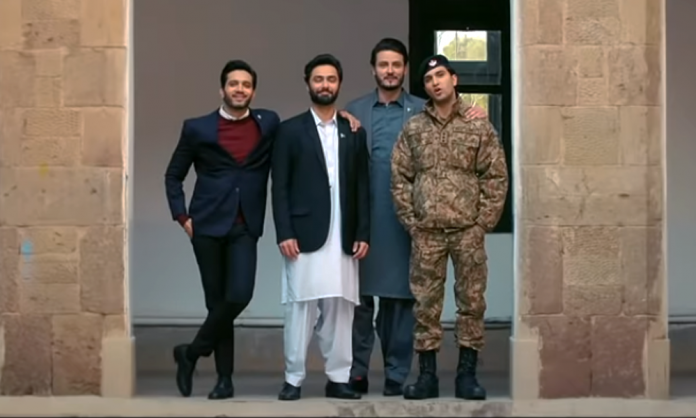 Pakistani drama, Ehd-e-Wafa came to an end yesterday and the public is not ready to get over it yet! The journey of four friends from different backgrounds through college-life to grown-up adults was a treat to watch and a much-needed breather from the average seas-bahu sagas on our screens.
The bumper episode aired last night and the heart-wrenching finale was trending across social media with Twitterati sharing their views!
We were reminded about the bravery of our men in uniforms at the border, to the numerous sacrifices they make for the nation.
All the fauji mothers have watched this drama with teary eyes and so did my mom ❤️can't get enough of this scene. #Ehd_e_wafa#Saad pic.twitter.com/jyWVazODcD

— zalmi💛 (@Marwayyy_y) March 15, 2020
The heart-breaking realities faced by martyred families was reflected in Ehd-e-Wafa!
When dua was crying for Saad i was feeling the pain of all martyed familes 💔 #EhdEWafa pic.twitter.com/R2TDUoFOQj

— it's ( H a m z a ) (@HamzaBiniqbal2) March 16, 2020
A soldier don't fights alone, there is a family behind him who supports him
A mother who gives her son to country

A father who gives his "resort to old age"to country

A sister who gives her partner to country
Don't allow anyone to separate hatred against our soldiers#EhdEWafa pic.twitter.com/oigj7DNKP1

— it's ( H a m z a ) (@HamzaBiniqbal2) March 16, 2020
We all want true friendships like these in our lives!
We all need this type of Friends….❤️#Ehd_e_wafa pic.twitter.com/Rprl6F8t5N

— Sharjeel🇵🇰💛Zalmi💛 (@Shery_tw) March 15, 2020
Friends are the family you choose, so choose wisely😇

Pakistan Zindabad❤️🇵🇰#Ehd_e_wafa pic.twitter.com/cukEaD8nR7

— DuaaTahir (@DuaaTahir2) March 15, 2020
This scene had us all going AWWWW!
This scene brought tears in my eyes😢#Ehd_e_wafa #EhdEWafa pic.twitter.com/hO0swOmlL4

— YaSiF یَاسِفْ (@IamYasif) March 15, 2020
We loved this comical representation during an otherwise emotional rollercoaster episode!
Exact copy of indian news channel 🤣.
Pak army rocked india shocked 😌#indianews #Ehd_e_wafa #PakistanArmy pic.twitter.com/GKGBUOYqGg

— B L I S S (Peshawar.Zalmi) (@psychohun_) March 15, 2020
True representation of what we felt while watching Ehd-e-Wafa last night!
Me and my mom watching #Ehd_e_wafa be like…🥺🥺 pic.twitter.com/2JEdcThPaq

— HK memes (@hksk1998) March 15, 2020
Haha, do you agree?
Thank God Saad bach gya..
werna pakistan main Is dfa Reliyan nikal parni thi…
HappY Ending….#Ehd_e_wafa
Will miss you #SSG

— Emma Shah (@mashadi_noor) March 15, 2020
Special appreciation to the drama writers for showing women in a strong, positive light. True women empowerment was portrayed through them.
Be like these four ladies strong and ambitious #Ehd_e_wafa # pic.twitter.com/NSYoH45JDP

— Abaid Ullah (@abaid_bandaisha) March 15, 2020

Pretty sure the entire Pakistani population watching the episode was ecstatic to have a happy ending after watching Ahad Raza Mir fighting for his life.
And the Journey Comes to end #Ehd_e_wafa pic.twitter.com/BjRpVb1vuE

— Mian hamza Official (@MianhamzaOffic1) March 15, 2020
Follow Brandsynario for the latest news and updates.