Not too long ago, Fakhr e Alam, a renowned Pakistani celebrity sparked a discussion on Twitter that went viral. He was posting pictures on Twitter of his trip to Balochistan. Amongst those pictures was one of Gwadar Cricket Stadium which he found immensely beautiful.
Wait I have a big surprise coming out from there 😁😁😁🇵🇰🇵🇰🇵🇰 https://t.co/dNCYQ2iJsS

— Fakhr-e-Alam (@falamb3) February 17, 2021
The International Cricket Council (ICC) found that tweet and shared the photo challenging others to present stadiums that could match the stadium's beauty if not supersede it. The stadium was, safe to say, in the conversation for quite some time.
🖼️ Show us a more picturesque sports venue than the Gwadar cricket stadium in Balochistan.

We'll wait…

📸 @falamb3 pic.twitter.com/lz6nUGr9HH

— ICC (@ICC) January 31, 2021
But if we were to remember the original tweets, we would recall that Fakhr-e-Alam promised a surprise. And the surprise was a celebrity cricket match, one of the first matches to be held at Gwadar Cricket Stadium. It will be held on 19th February 2021 and will be broadcasted live on Aaj Entertainment.
A New Opening
If you follow trending news on social media, you must be aware of this new stadium. Situated between picturesque rocky cliffs, the ground is located in Gwadar. The outlook of it seems to have been taken right out of a fairy tale.
One cannot imagine that such a place of beauty can have a cricket ground right in its center. It almost feels like a place where hints of heaven can be seen on earth.
This is not exactly an entirely formal match, but it is a professional cricket match all the same. The sponsor behind the inaugural match is EBM (English Biscuit Manufacturers). You might know them from the tasty treats they offer through their company.
Such an initiative is not unthinkable because we know EBM always goes out of the way to give us the experience we would remember for a long time. Case in point being the Sooper Hai Pakistan Ka Junoon campaign where they brought together Pakistan's most loved band.
Coming back to the current initiative, EBM presents the #SooperHaiPakistanCup where 'sooper-loved' celebrities will take part in the match.
Gwadar's Beauty
We know that this is Gwadar's first cricket match. We also know that the game is going to be broadcasted live for the first time in the history of the place. And no one has ever seen a live match from Gwadar! So, what more do we need to know!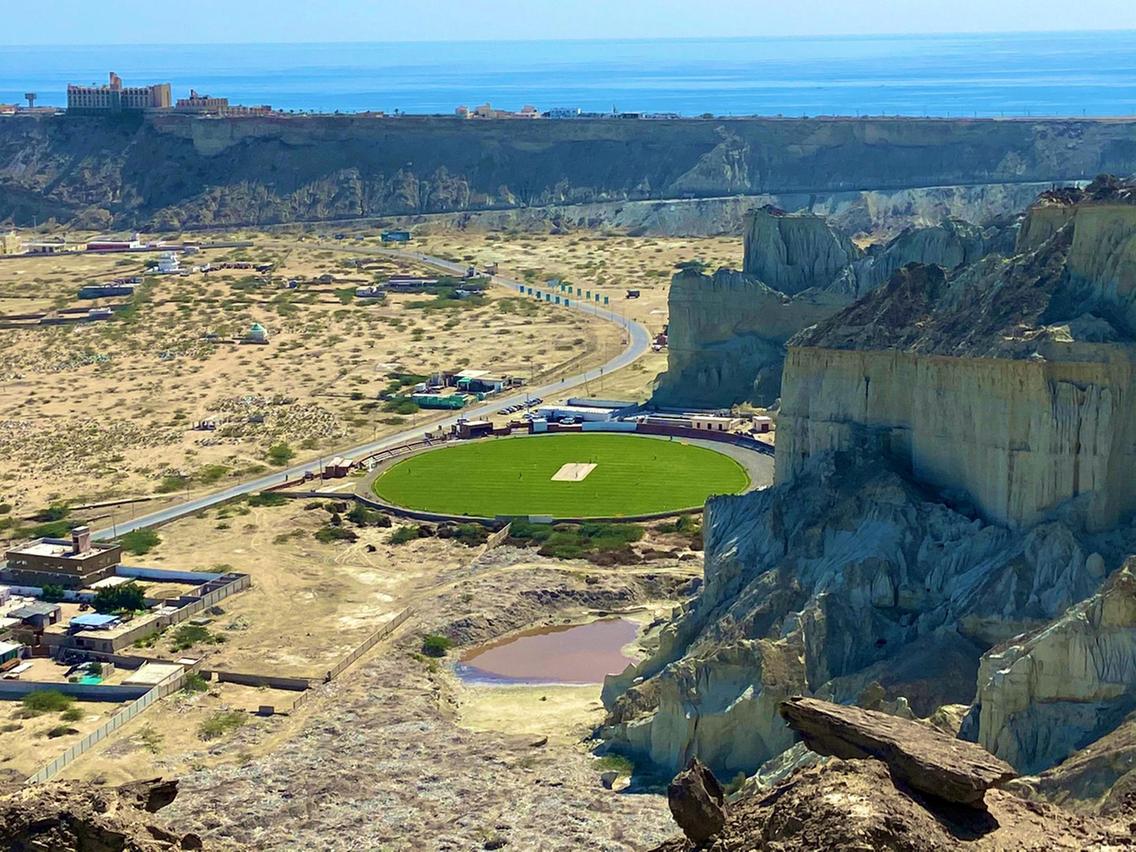 The place holds such an immense amount of serenity that one may never want to leave it. You cannot deny any form of peaceful thoughts that make their way into your mind as you gaze upon the place.
Check this out!
We hope that the place serves as the future of cricket matches in Pakistan. Not everyone can say their country has such precious ground, right in the middle of heaven on earth!
Stay tuned for more from Brandsynario!