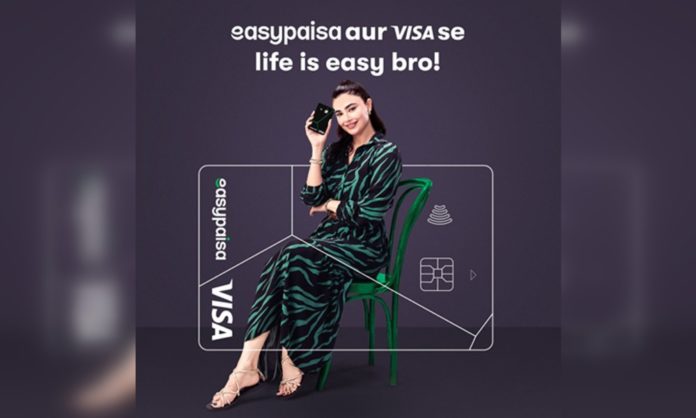 Opening a bank account is a daunting task; from papers to verification, the process can take several hours, if not days. This is a nightmare in the digital age. People require rapid and convenient access to their money around the clock, and very few industry participants can give this.
easypaisa has evolved over time into a dependable payment platform that allows individuals to access financial services in a simple and safe manner. With over 250+ use cases such as bill payment, mobile top-ups, loans, and much more, it has now added another feather to its cap by launching the easypaisa VISA debit card, which would make life easier for millions of Pakistanis.
Unique features
The slim and sleek Visa debit card is intended to make the lives of 14 million easypaisa users easier. Customers can use their Visa debit card to make secure POS payments at over 90,000 terminals and withdraw cash from over 16,000 ATMs around the clock. These cards have an EMV chip, which makes them extremely secure and removes the possibility of fraud.
This new Visa Debit Card is also a contactless card using NFC technology which enables the customer to make payments by simply tapping the card on the merchant POS. Additionally, customers can also pay by scanning the VISA QR code.
How Can You Order easypaisa VISA Debit Card?
In only a few steps, you can order your debit card. Customers can order through the easypaisa app (available for both Android and iOS) or by phoning the USSD channel *786#. The card has no annual cost and customers must only pay a one-time modest fee.
Life is #easybro
Your life is literally #easybro with an easypaisa VISA debit card. The company wisely recognised that it is not easy for everyone, especially women, to go to a bank for financial concerns all of the time. Furthermore, there are few options for women to invest and save from the comfort of their own homes. easypaisa tackles all of these worries and offers its customers the option of not only doing routine transactions with simplicity but also investing their money intelligently. This is also consistent with their objective of creating a financially inclusive, cashless Pakistan.
Without further ado, obtain your easypaisa VISA debit card immediately and regain control of your finances.
Stay tuned to Brandsynario for more news and updates.