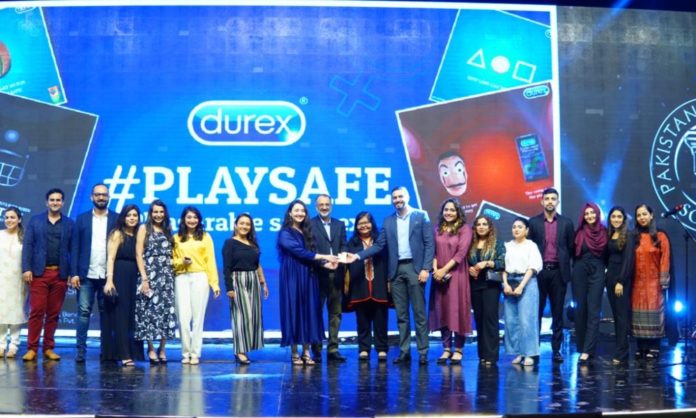 Durex, part of Reckitt Pakistan's arsenal, was the shining star at the Effie Awards that took place earlier this April. The brand, which essentially had no voice in the Pakistani market, brilliantly executed campaigns that secured them not one, but two gold awards at the Effie Awards in the most relevant categories of the marketing world today, Social Media and E-commerce marketing.
Breaking into the Pakistani market for Durex was nothing short of a challenging feat, the brand has not only never won before, but this is its first nomination at Effies PakistanBy creating campaigns that catered well to the sensibilities of the market while being completely aware of the sensitivity of the matter, Durex managed to not only create successful campaigns but also create a voice of its own, one that consumers could understand.
The Durex campaign named 'No Measure to Your Pleasure' focused on three main touch points; communicating the extended pleasure variant, focusing on discreet packaging and associating witty humour, The variant chosen was 'Extended Pleasure' to shift mindsets away from using the product purely for contraceptive purposes. The campaign managed to increase sales through a quicked-witted DVC and subsequent digital posts that showed impressive conversions to Durex's eCommerce site.
Furthermore, the brand also tapped into another problem the Pakistani market was facing, which was a lack of discretion.  They recognized that this issue made customers apprehensive to order online, and they found a way around this by offering unmarked packing with quick delivery to ensure discretion for their customers. The combination of both legs of the campaign managed to increase overall eCommerce sales by a whopping 259% and Extended Pleasure variant growth by 95%!
The campaign 'Playsafe', won in the Social Media category for its clever posts. The brand worldwide is known for its comical take on a serious issue, and the team in Pakistan did not hold back. Playing upon current affairs and relevant news, Durex has posted a myriad of posts that will leave you laughing-out-loud, yet informed. The team noticed that the most effective way for potential customers to engage with their brand was via social media likes, comments, and shares. They also linked their eCommerce site to their digital channels resulting in a 200% increase in eCommerce sales and a 50% increase in total sales!
The Marketing Director of Reckitt Pakistan, Ahmed Rizvi commented, "I could not be more proud of the Durex team and everyone at Reckitt, as well as our supporting agencies, everyone has been a part of this milestone win! Having a brilliantly determined team and the agency has proven how catering to your consumers' interests, even for a brand that would constantly be silenced, can make a brand soar. A massive congratulations to every one a part of this achievement."
In tandem with these on-going campaigns, Durex also introduced its first brand ambassador, Zahid Ahmed, and used his presence to launch a sex-ed website to help educate the local market, which has now become one of the fastest-growing websites in the country. The brand recognized the gap in learning and information available to their clientele and created a solution that preceded the actual sale of the product. By educating the market, they were able to highlight safe-sex practices, answer frequently-asked-questions and emphasize the usage of their products with those responses. Creative ideas and thinking as such is what has lead Durex to be a leader in its category and we can't wait to see what else the brand comes up with!