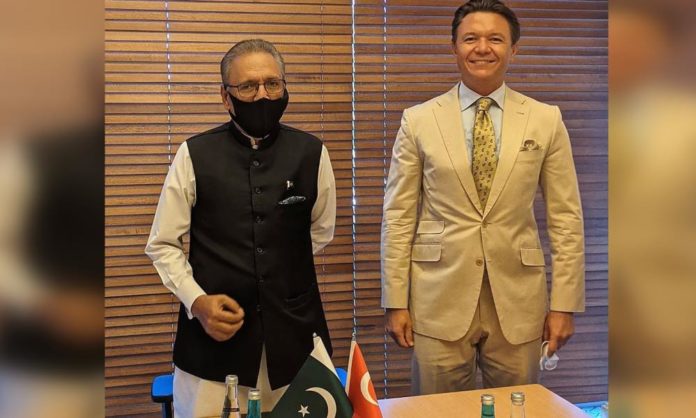 Karachi: August 17, 2021 – The honorable President of the Islamic Republic of Pakistan – Dr. Arif Alvi recently made an official visit to Turkey, where he also held a meeting with the Chief Executive Officer (CEO) of Arçelik – Mr. Hakan Bulgurlu, and several other major corporate leaders from Turkey. Arçelik, which is the 2nd largest manufacturer of home appliances and electronics in Europe, acquired Pakistan's leading home appliance company Dawlance in 2016 and is one of the largest Turkish investments in Pakistan.
During the meeting, the participants discussed vast opportunities of economic cooperation between Pakistan and Turkey. The President also extended an invitation to Turkish investors and entrepreneurs to take full advantage of Pakistan's business-friendly policies and conducive business environment being created by the government.
The CEO Arçelik, Mr. Hakan Bulgurlu, expressed his pleasure in meeting the President of Pakistan and said: "Emerging economies like Pakistan are at a crossroads, as the growing demand for energy and home appliances go hand in hand with diminishing natural resources. We have had a valuable discussion with the President of Pakistan about effective measures to curb energy consumption, while we also shared with him sustainable solutions across our industry and how scarce resources can be conserved through our efficient appliances which will be the need of the hour especially for a country like Pakistan."
Commenting on this important meeting in Turkey, the CEO of Dawlance in Pakistan, Mr. Umar Ahsan Khan, stated that: "Dawlance-Arçelik would like to express our gratitude to the Honorable President Dr. Arif Alvi for meeting our Global CEO in İstanbul. While we make sure we are always a reliable partner for our customers in their homes as they make progress in their lives towards achieving their dreams, we at Dawlance are committed to sustainability and strive towards giving our future generations a healthy planet."
Environmental and sustainability initiatives were also discussed and talked about during the session as energy efficiency and environment sustainability are at the core of operations for Arçelik and is the point of focus for Pakistan. During the discussions with delegates of the Energy, Electronics, I.T., Health, and other industries of Turkey, President Dr. Alvi also invited these entrepreneurs to avail the lucrative investment opportunities emerging in numerous industrial sectors of Pakistan, including; Finance, Mining and Tourism amongst others. The Government of Pakistan has appreciated the multitude of robust ventures being established in Pakistan by these progressive Turkish companies while offering all possible support to the foreign investors.