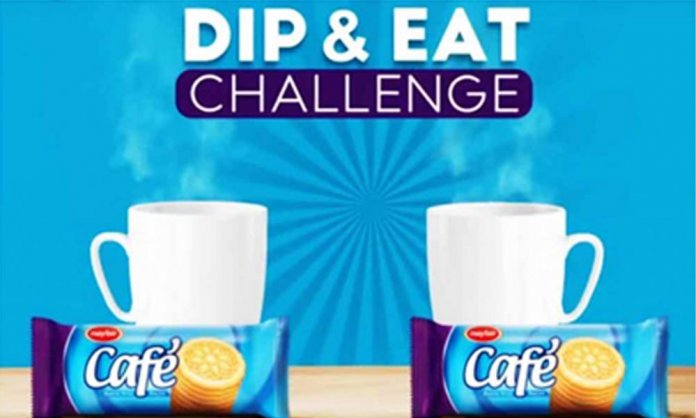 Every now and then, there is a new challenge on social media trying to create a buzz among the audience.
However, few of these challenges end up making their mark in the digital landscape. Mayfair Café Dip & Eat challenge was that 'One' challenge which hit that sweet spot and made friends come together.
Mayfair Café is setting the bar really high with its exhilaratingly fun-packed Dip & Eat challenge for everyone!
https://www.youtube.com/watch?v=fjtDVz-nSCg
The challenge proved to be great fun for all those who competed and even more for those who were cheering alongside for their friends.
It didn't matter if the participant was 8 or 45 years old, everybody just naturally felt the urge to engage in the 'Dip & Eat' challenge with their friends – because it was just that exciting!
Let's have some Café biscuits and Chai!
https://youtu.be/hyTGhTgv8fU
It was an easy peasy lemon squeezy challenge for everyone. Just select your partner and dip & eat as many Mayfair Café biscuits as you can (in tea of course) along with your partner in just 1 minute.
Dip, Eat and Win! All you need is Mayfair Café, Chai and a Buddy!
https://youtu.be/OVBUHq6rdJY
The challenge was making its mark everywhere and everybody was up for having fun with Mayfair Café biscuits, a cup of tea and a partner-in-challenge. The fun yet doable nature of the challenge made it capture the attention of the masses – making it go viral on the social media platforms in no time.
Even the non-tea lovers were totally up for the challenge! How unusual yet cool is that?
Dil Ki Baat Doston Keh Saath!
https://youtu.be/hHioOGQ26mk
The virality of the challenge went multifold when a heart touching DVC highlighting the beautiful bond of friendship was launched by the brand. You could simply connect with the 'Dil Ki Baat' underlined in the brilliantly captivating video. Kudos to Mayfair Café for making us realize this special relationship that we embrace with our friends.
The winners of our Dip & Eat Challenge
https://youtu.be/DlJLzBtRDa0
Here's a shout-out to our Dip & Eat challenge winners who managed to eat maximum number of Mayfair Café biscuits in one minute. Mayfair Café promised its participants fun, excitement and loads of presents, and that is exactly what they received. A Samsung LED TV for the top scorer of the Dip & Eat challenge, whereas Samsung smartphones for the two runner-ups.
The stats of the campaign have been staggering; Mayfair Café Dip & Eat challenge has been able to generate a reach of over 5.5 million and around 1.5 million views in a timeframe of merely three weeks. Knowing your audience surely makes all the difference. Coming up with different challenges and fun activities is the key to not only engaging the audiences, but also the key to their retainment.
Mayfair Café has certainly justified its brand image by emphasizing that it is the Little Joys of Life that makes all the difference. You could see videos of friends and family doing this fun-filled challenge all over the social media. Making it evident that Mayfair Café 'Dip & Eat' challenge brought smiles on faces of people across the nation.
What's better than bringing happiness in doing the little things?
https://youtu.be/NZm3zpUj5vc
It's safe to say that Mayfair Café is surely keen towards spreading happiness through such thoughtful and well-defined challenges. No doubt, they were successful in winning the hearts of people all over Pakistan. Let's stay tuned to Mayfair Café to see what little joy they will bring to us next.