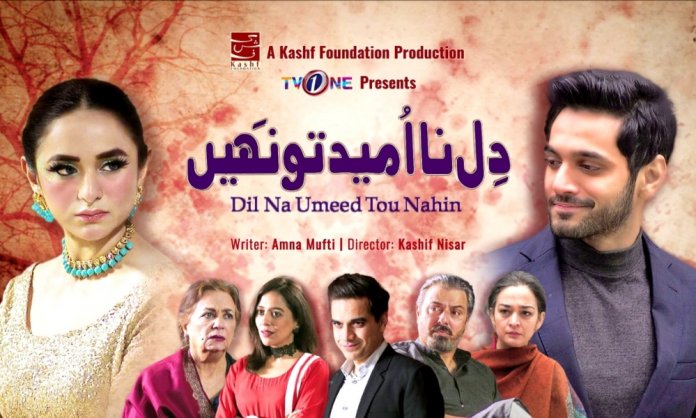 Kashf Foundation's production mega serial "Dil Na Umeed Tou Nahin" to go on-air on TVONE from January 18. It is a drama based on the reality that exposes viewers to the most exotic, erotic, and darkest elements of our society.
Bringing some of the most heinous and deeply sensitive issues to light – while showing how humanity can still prevail in even the most insurmountable of situations.
The star cast of the serial includes Yumna Zaidi, Noman Ejaz, Umair Rana, Wahaj Ali, Navid Shehzad, Samiya Mumtaz, Yasra Rizvi, Nadia Afgan, Kashif Mehmood, Noor ul-Hasan, Tipu.

Dil Na Umeed is not just your regular narrative of good vs evil. It is a story of hope, set in a world we often tend to ignore: that of the sub-human, the downtrodden, and the "voiceless".
With three parallel soul-stirring stories on prostitution, human trafficking, and child abuse, this powerful drama exposes the lowest ebb of our society. Places that are riddled with glitz, allure, lust, and temptation; places tainted with anger, crime, wickedness, and deception, where hopelessness can prevail and yet humanity comes to light.
Here's the trailer:
The all-star cast, superb performances, highly engaging script, and excellent production values, come together to expose the emotional, psychological, and even physical effects of the underworld, where the glitz and power of money, hides the many faces of evil.
And yet, also shows how it takes true courage, resilience and hope to stay alive within it. Will the characters perish or prevail? Will courage and hope prove to triumph over evil?
This suspense-filled drama will have viewers' hearts pounding through every twist and turn, as they make their way through the world of "lesser humans" – the dark underworld.