On Wednesday, Sindh Governor Imran Ismail mentioned that doctors, nurses, paramedical staff and volunteers ply a crucial role in the war against COVID-19, so every step will be taken to ensure their safety.
He stated this while speaking to a four-member delegation representing the fashion designing and textile industry who had called on him at the Governor House.
The committee was led by fashion designer Deepak Perwani. Moreover, Pakistan Tehreek-e-Insaf lawmaker Sidra Imran was also present at the event.
Discussion regarding the local production of protective gear against the global pandemic was the key topic at the meeting.
The needs of the Corona Relief Tiger Force announced by the prime minister, less dependence on imported items and other matters of mutual interest were communicated during the meeting.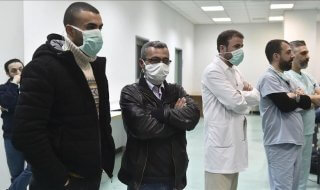 Governor Ismail announced the availability of personal protective gear for health care professionals is extremely important and due to the hardships in its availability, the local manufacture of such gear would be encouraged by the government.
He also said that health care professionals and volunteers engaged in looking after COVID-19 patients were helping tirelessly, and the entire nation salutes them for their assistance. They are our heroes and all of us are grateful to them, he added.
He inquired for details of the planned local manufacture of protective gear for health care professionals combatting against the coronavirus emergency, saying that he would personally look into the issue and facilitate them.
COVID-19 was a national issue, adding that devoted, dedicated and, most importantly, combined efforts were needed nationwide for the prevention and elimination of the challenge, he added.
On the other hand, designer Deepak Perwani said on the event that the textile and fashion designing industry considered it their national obligation to give whatever was expected to promote the health professionals and volunteers in the challenging times faced by the country.
There were other members of the delegation preset as well who were Kehkashan Saiyed, Furqan Riaz and Shozaib Kapadia.
Stay tuned to Brandsynario for the latest news and updates.