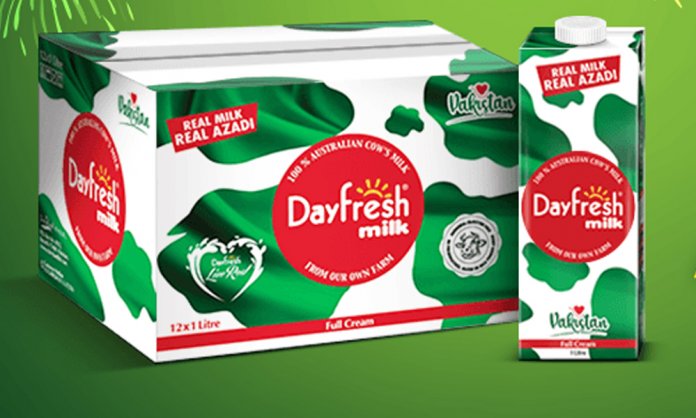 Each year on Independence Day, brands take the opportunity to play their part in releasing patriotic messages and promoting the spirit and vision of Azadi.
As Pakistan observed its 72nd Independence Day this year, some brands came up with creative ways to demonstrate their patriotism.
Dayfresh, a brand that claims to be the purest milk brand in Pakistan providing 100% Australian cow's milk from their designated farm decided to bring an exclusive green and white azadi pack to celebrate 'Real Azadi' with 'Real Milk'.
The azadi pack is a perfect representation of the country and the celebration of freedom. In addition, Dayfresh also released an exclusive Independence Day Anthem to honour the occasion.
The Anthem titled "Yeh Pakistan Mera" is made in collaboration with leading artist Hamza J Sheikh who has been launched on all international music platforms.
Hamza is a singer/songwriter with great love and passion for music. The artist has made his name as a solo artist proving that he possesses great talent. Not only this, but Hamza is a multitalented individual who has extensive experience in the Advertising Industry and is known for his innovative and creative services.
While he has covered a number of tracks, he rose to fame through the PSL anthems which were also supported by other famous artists.
His soulful cover of "Wohi Khuda Hai" is one of his most soulful renditions and this Azaadi Anthem has also won him lots of love and recognition.
This independence day, Hamza along with the entire nation celebrated 'Real Azadi' by chanting together, "kyun kay yeh zameen meri, asmaan mera.. Yeh watan mera!"
Penned and sung by Hamza himself, it is an upbeat track which represents the happiness and ownership of Pakistan. The artist in collaboration with the brand pays a fitting tribute to our beautiful homeland.
The video also features the manufacturing process of the Azadi pack and focuses on the picturesque beauty and people of Pakistan.
The response to the anthem from the audience has been amazing, so far. They love the Azadi pack and the Anthem which is available on all international music platforms.
You can also make the anthem your dial-tune with the following codes:
Zong: 1226464
Ufone: 9124267
Mobilink: 484241
Watch the complete video below and let us know what you think:
https://www.youtube.com/watch?v=LcCGe78Hbww
Stay tuned to Brandsynario for more news and updates.