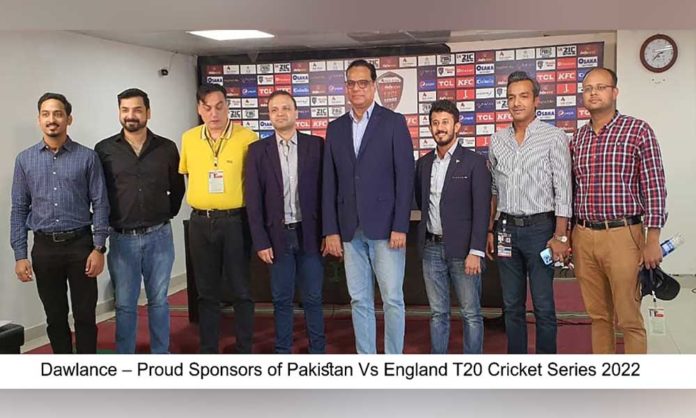 The leading producer of home-appliances and innovative electronic technologies in Pakistan – Dawlance has committed to be the sponsor of the upcoming Cricket Series, between Pakistan and England. A joint press-conference was held by the Pakistan Cricket Board (PCB) and Dawlance, at the National Stadium in Karachi, to announce this collaboration.
Over the years, Dawlance has been a resourceful partner with PCB, to promote healthy sporting activities, especially Cricket in Pakistan, whereby it also sponsored the Pakistan-Australia Cricket Series 2022 held recently. Dawlance has always been at the forefront, for promoting; sports, healthcare, education, culture and environmental sustainability in Pakistan, to create fresh opportunities for socio-economic growth, while improving the quality of life, nurturing talents of the youth and empowering the nation.
The Chief Marketing Officer of Dawlance – Syed Hasan Jameel stated that: The fact that England is touring Pakistan after 17 years for seven T-20 matches, makes these moments all the more special. Dawlance is committed to enrich this exhilarating experience for the spectators on Television and in the stadium. I wish Best-of-Luck to both the teams. May the best team win."
Promoting Cricket as the favorite sport of the Pakistani nation, is a part of Dawlance's vision for socio-economic development. Dawlance has also launched comprehensive development programmes in sync with the 'Sustainable Development Goals' (SDG) of the United Nations (UN). Being a wholly-owned subsidiary of Arcelik – the second largest manufacturing company in Europe, Dawlance also has a global vision for adopting global best-practices, to accelerate progress, conserve energy and establish higher standards of performance, to continue as the corporate leader in the technology sector.