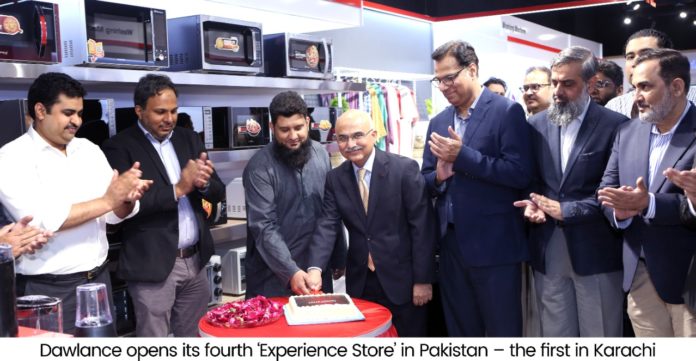 Karachi: 9th December, 2022 – Continuing its pursuit of delivering exceptional quality of products and services, Dawlance – the technology-leading innovator in Pakistan's Home-Appliances industry, has recently inaugurated its fourth 'Experience Store' in Pakistan. Located in Karachi, this specialized outlet will provide customers with hands-on experience with a wide range of Dawlance products, all under one roof. As the company is committed to further expanding its nationwide network of dealers, it is promising great convenience for consumers all over Pakistan.
Dawlance is a wholly owned subsidiary of Arcelik AS – the 2nd largest manufacturer in Europe, based in Turkey. In Pakistan, Dawlance – Arcelik have plans to establish many more experience stores in future, with its vision to achieve unmatched customer care. The vibrant ceremony held in Karachi to launch this new Experience-Store was attended by senior management executives of Dawlance, many stakeholders of the technology industry, many loyal customers and other prominent personalities of Karachi.
The Director of Marketing at Dawlance – Syed Hasan Jameel stated that: "We are very excited about the opening of another revolutionary concept-store, to enhance the Consumer Retail-Experience. Our global parent company – Arcelik, has inspired this strategic investment to enable easier access for customers, who prefer to evaluate the performance of an electronic product, before making the purchase decision. It also reflects the confidence we have in our product line-up that promises more than 50% energy conservation. "
Dawlance has the largest network of dealerships and distribution outlets in every major city across Pakistan. Every Dawlance Experience Store will have a standardized layout, decor and visual design, along with state-of-the-art equipment. The complete range of Dawlance home appliances includes; Refrigerators, Deep-Freezers, Washing-Machines, Dishwashers, Cooking Range and smaller kitchen appliances, with the highest European quality standards adopted by Arcelik, in Turkey.
With extensive research & development, customer care and after-sales service, Dawlance strives to exceed the expectations of every customer and cater to their evolving needs. Since its acquisition in 2016, Arçelik has already invested in Dawlance, to ensure higher productivity and quality. Every employee is trained to ensure compliance with the global best practices, at every operational level.