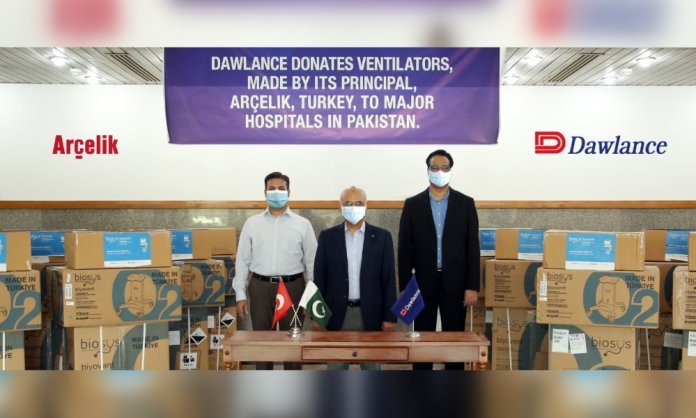 Dawlance, a wholly-owned subsidiary of Arçelik Turkey – the 2nd largest home appliances manufacturing company in Europe, has stepped up to help Pakistan during the time of the COVID-19 pandemic by donating ten life-saving Respiratory Ventilators, through its subsidiary Dawlance, to significant hospitals in Pakistan.
In April, Arçelik revealed it had joined forces with BioSys, defense firm Aselsan and aviation company Baykar Technologies to produce mechanical ventilators, in a collective effort led by the Turkish Ministry of Industry and Commerce the Ministry of Health.
A team of 120 engineers used rapid prototyping facilities at Arçelik Garage, an open innovation center in Istanbul, to design and test the initial prototype in just two weeks. By June, 5,000 devices had been manufactured at its Çerkezköy electronics on a not-for-profit basis to meet domestic and international demand.
The ventilators were made to meet domestic and international demands while the brand decided to donate 50 ventilators to help countries battling pandemic. Under these donations, ten ventilators were presented by Arçelik to Dawlance to help major hospitals in Pakistan. The grant was distributed as; two vents to the NDMA COVID Hospital in Islamabad, two vents each to the Indus Hospital, Karachi, Sindh Institute of Urology & Transplant (SIUT), Karachi, and Shaukat Khanum Cancer Hospital while one at Dow Hospital (Ojha Campus), Karachi and one to the Lady Reading Hospital Peshawar.
In efforts to serve the people of Pakistan, over the past few months, Dawlance itself has donated a large number of valuable refrigerators, deep freezers, air-conditioners, self-produced incubation-chamber, and PPE's microwave-ovens and other appliances to medical-care institutions all around Pakistan. This was to enhance the hospitals' capacity to deliver better care to the patients in Pakistan.
The donations by Dawlance in these challenging economic situations have equipped the doctors and para-medical staff working on the frontline against the virus so that they are enabled to save more lives during this public-health crisis while protecting themselves with the help of PPEs and self-incubation chambers. This pledge of ventilators by Arcelik and Dawlance is a testimony that Pakistan and Turkey hold strong bilateral relations, which can be observed.
The Chief Executive Officer of Dawlance – Umar Ahsan Khan, shared his gratitude by saying, "It is a pleasure to acknowledge that these advanced ventilators produced at the Arçelik factory in Turkey have been received Dawlance, to be donated to the leading healthcare institutions of Pakistan. This kind gesture by Arcelik signifies the strong bilateral relationship between Turkey and Pakistan. The robust collaboration and sharing of innovative technologies between Dawlance and Arcelik will continue to bring significant benefits for the nation, while further strengthening the bonds between Pakistan and Turkey.
Considering the need for enrichment in the healthcare infrastructure of Pakistan, Dawlance-Arcelik believes that it is inspiring the creative corporate sector to contribute generously, to minimize the socio-economic impact of this disease. Pandemics like COVID19 require collective efforts rather than an individual for a sustainable future for which Dawlance and Arçelik have set the right direction.