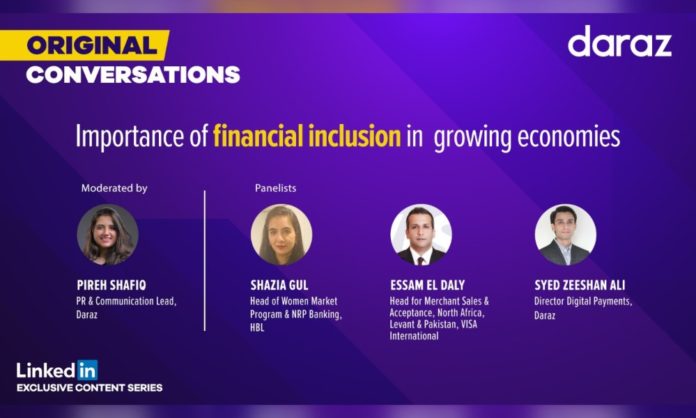 Daraz recently had a panel discussion on financial inclusion in which representatives of two major financial organisations, VISA and HBL joined the team of Daraz. The panel discussion shed light on various strategies to inculcate financial inclusion in Pakistan whilst drawing attention to its importance. Here are the most important takeaways!
The Current Statistics
Financial inclusion generally is of utmost importance for the growth of any country's economy. However, in a country like Pakistan where women make up 49% of the population, the financial inclusion of women is crucial. Daraz's data shows that almost 60%-70% of women who signed up as sellers did not have their own bank account.
These statistics are alarming and they are precisely what prompted this discussion. Aggressive strategies to ensure the financial inclusion of women are the need of the hour and VISA and HBL are leading the path.
What Is VISA Doing For Financial Inclusion of Women?
VISA is an international financial organisation that has become one of the top in the respective category. The representative of VISA, Essam El Daly shared what his organisation has been up to. He believes that the alarming statistics are why VISA gives importance to projects that promote financial inclusion for women. 
Moreover, Visa has built a network of entrepreneur women so that they can benefit from each other's experiences. There is also a mentorship program currently running in which capacity building is focused on. Daly shared that financial institutions must become accessible for all and this idea is at the heart of Visa.
HBL's Strides in Pakistan
HBL's representative, Shazia Gul, shared the massive strides HBL has been making with regard to female inclusion in finance. She believes this is a basic building block and is critical to pull our country out of poverty and create employment opportunities. 
NISA is a project started by HBL which focuses on women's inclusion in the finance sector. It's a women market platform that addresses the need for women to be brought to the forefront. NISA encourages women to enter mainstream banking services which are of immense value as women in Pakistan are often denied this. 
How Does A Patriarchal Society Effect This?
In our society, it is believed by men and women alike that a male member should only have a bank account. Men have all the assets named after them and they prefer them knowing what transactions their wives have. 
However, Shazia Gul pointed that a mindset is not the only thing that we are currently fighting. There are a host of other reasons like lack of education, lack of financial literacy and independence of women at stake. Thus, we have to move beyond them collectively. Talking about is the best way to raise awareness, alas, we have begun!
Stay tuned to Brandsynario for the latest news and updates.