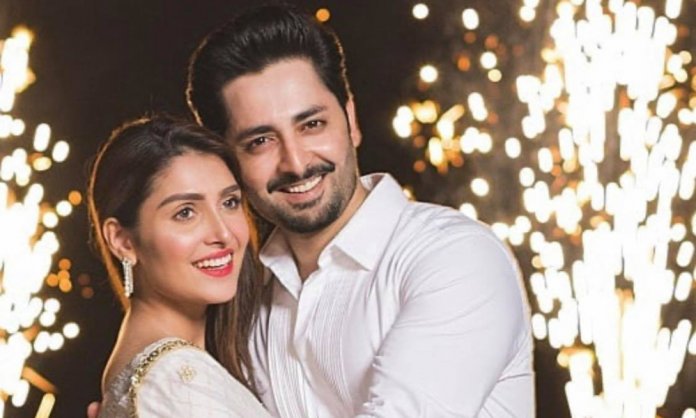 Danish Taimoor is quite a celebrity who, when he acts, gets immersed into acting, and it is pretty evident from his work. Interestingly, he has another member in the house who is an even more amazing actress and is also known for it. Unlike other men who might get insecure if their wives are more loved and appreciated than them, Danish appreciates and acknowledges it.
Danish Taimoor and Ayeza Khan
Ayeza Khan, his wife, is not only famous for her outclass acting skills but also for up-keeping her morals. You might remember how she makes sure her designers do not reserve any revealing clothes for her to wear for any event. Even the clothing brands she signs up with makes sure that the clothes they advertise with suit her image. Aside from her projects, her Instagram is full of her pictures with her family, which shows that even though she is busy with her career, she takes time out for her family as well. And the steamy hot photoshoots with her husband make one swoon over them.
Danish's note
So recently, Danish Taimoor took to his Instagram to appreciate the woman who is his wife and his beautiful children's mother. On the event of her birthday, he penned down the most heartfelt note you will read today.
"I cannot imagine a single second of my life without this woman and the beautiful family she has provided me with. I can't thank you enough for the amount of peace and love you have brought to my world."
He also added: "I hope we continue to grow like this and be with each other till the very last breath of our lives."
The involvement
This particular family makes sure they take appropriate time out for each other. Time and again, for every event, festival, or gathering at their children's school, both Danish Taimoor and Ayeza Khan are present for their children.
We hope that they continue to be the loving family they are today. And we wish them all the best!
Evil eyes off! Also, Danish and Ayeza stock up on the laal mirch.
Stay tuned to Brandsynario for the latest news and updates!