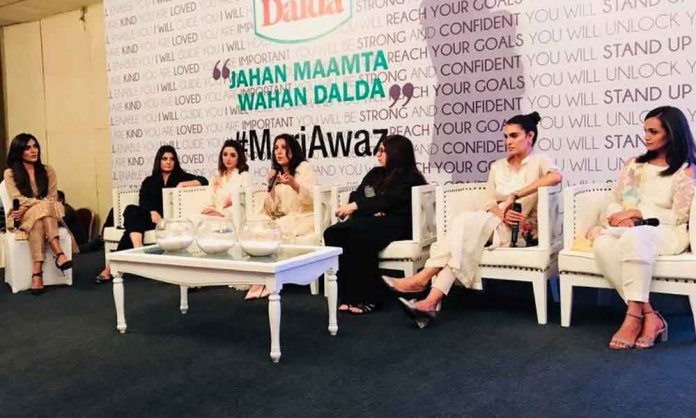 Children are the torch-bearers of society. It is our responsibility to provide them with a nurturing environment that not only ensures their healthy growth but also allows them to achieve their full potential.
However, there is a lot of pressure on children nowadays to meet the expectations imposed by society.
While both genders feel the pressure, the girl child is comparatively under more scrutiny and is expected to live her life according to rules imposed by those around her.
From a very young age, she is told to eat less in order to stay thin and beautiful. Many times, she is shunned from taking part in sports and restricted from pursuing higher education.
These clichéd perceptions are generating an unhealthy body image amongst young girls today, shattering their confidence and creating impediments to achieving their full potential.
Dalda Bringing A Shift In The Cultural Attitude
There is a dire need for positive influences teaching them how to combat body shaming and other pressures.
In a bid to nip these societal dilemmas, Dalda has launched an inspiring campaign #MeriAwaz to empower young girls about body image. As the brand has been synonymous with motherhood, Dalda's Meri Awaz campaign is a relevant and effective extension of 'Jahan Mamta Wahan Dalda'.
The purpose of #MeriAwaz is to educate mothers on how to motivate children to have a positive body image about themselves and defy the double standards prevalent in our society. It is a mother who can give her child the confidence to pursue her dream and not be bound by societal pressures.
Bringing Together A Voice Against Body Shaming
The brand united high-powered influential mothers from all walks of life for a panel discussion at the Movenpick Hotel.
Spotted on the occasion were Aamina Sheikh, Nadia Hussain, Samina Pirzada, Sarwat Gilani, Aamna Isaani, Mishaal, Samina Pirzada and Ayesha Toor.
These confident moms stressed upon ending the cycle of stereotypical negativity and practicing compassion towards children.
The focal point of the discussion was that the time had come to teach the youth to 'feel comfortable in their own skin".
The ladies narrated personal incidents about how they had overcome obstacles through the support and confidence given to them by their mothers and other family members.
Instead of schooling them to be skinny and thin, the mothers emphasized on imparting the message of healthy eating and nourishment amongst the younger generation.
They also reiterated the need for reaching out to schools and making the subject of 'body positivity' a part of the school curriculum.
Present at the event, Dalda's Marketing Director Usama Khan highlighted that Dalda has engaged Pakistani mothers for decades and #MeriAwaz is yet another such initiative by the brand. He added that it is their corporate social responsibility to play a part in ending these existing double standards.
The Cake starlet, Aamina Sheikh also gave a motivating message at the event!
Mommy-of-two Sarwat Gilani shared that #MeriAwaz has made her feel all the more confident about combating the stereotypes imposed by society.
The supermom Nadia Hussain stated that we should prioritize the concept of fitness amongst kids rather than encouraging them to be fat or skinny.
By truly encouraging mothers to take part in the movement against body shaming, Dalda is giving a chance to our future generation to believe in inner beauty, practice self-love and live a healthy lifestyle.
What do you think about Dalda's campaign #MeriAwaz? Let us know in the comments below.