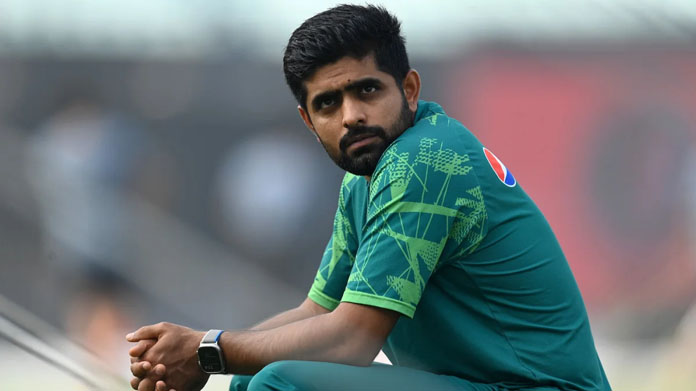 In yesterday's breaking news, Babar Azam resigned as the captain of the Pakistan cricket team across all formats following the World Cup dismay.
Following his decision, the cricket community flooded social media platforms with praise for the prolific batsman, acknowledging his substantial contributions, followed his decision.
Babar Azam as captain of Pakistan saw his team ascend to the top spot in the ODI rankings for the first time in their cricket history, highlighting his impactful leadership during his over four-year captaincy stint.
Taking charge in 2019, Babar Azam captained Pakistan in 134 games across formats, securing an impressive 78 victories.
The announcement of Azam stepping down came shortly after his meeting with Pakistan Cricket Board (PCB) Interim Management Committee Chairman Zaka Ashraf in Lahore, signifying a significant change in Pakistan's cricket leadership.
In his statement shared on social media, the 29-year-old expressed his commitment to continue serving Pakistan as a player despite relinquishing the captaincy.
Babar Azam's decision drew widespread acclaim from teammates and cricketers globally, who applauded his tenure and invaluable services as captain, emphasizing his influential role in shaping Pakistan cricket during his leadership stint.
Kaptaaana, aap Dilo k Kaptaan ho. You are definitely one of the greatest batsmen Pakistan has ever seen.

Your honesty, love, integrity, thoughts, and efforts for Pakistan as the captain are the things to look up to. May you continue to shine for Pakistan, Ameen. @babarazam258 🇵🇰 https://t.co/FuZOdyBR6U

— Muhammad Rizwan (@iMRizwanPak) November 15, 2023
Top guy .. 👍 https://t.co/K9yIMmLOtj

— Michael Vaughan (@MichaelVaughan) November 15, 2023
Really appreciate Ur services @babarazam258 as a captain of Pakistan Cricket. Surely ur hunger to get more runs contributing for winning matches for team will grow more with time. Stay healthy and blessed. https://t.co/FKY8SiZduo

— Mohammad Hafeez (@MHafeez22) November 15, 2023
Thank you @babarazam258 for you efforts as captain for @TheRealPCB I am sure this won't be your last time that you captain Pakistan. Everything happens for good and for learning. Now just enjoy getting lots of runs… May Allah always bless you Ameen ❤️🇵🇰 https://t.co/IPjsqNwstg

— Azhar Ali (@AzharAli_) November 15, 2023
It's been an honour to have represented Pakistan under your captaincy. I've been part of many highs and many lows during that period, but your resilience and determination always came on top. Looking forward to seeing you score heavily for Pakistan and that too from the best seat… https://t.co/Z06Rc9dfOX

— Iftikhar Ahmad (@IftiMania) November 15, 2023
Best of luck @babarazam258 for a new chapter in ur career. I am sure u will continue to shine bright. Congratulations to @shani_official and @iShaheenAfridi on becoming captains. May you take Pakistan to the top. #PakistanZindabad pic.twitter.com/6Q4EpqFaaA

— Shadab Khan (@76Shadabkhan) November 15, 2023
– @babarazam258: under your exemplary leadership, it's been a privilege to witness true teamwork and camaraderie. Your forefront leadership and commitment to team unity and collective success are commendable.

Looking forward to seeing you break more batting records, In sha… pic.twitter.com/J8mTqfjtD5

— Shaheen Shah Afridi (@iShaheenAfridi) November 15, 2023
Stay tuned to Brandsynario for the latest news and updates.