Coronavirus has hit Czech Republic quite hard. With covid infected number piling up, Czech republic has imposed a state of emergency. So this goes without saying that the country has been suffering from the pandemic with much intensity. And considering the businesses have also suffered due to travel restrictions, the businesses need to get a little more innovative in order to recover from this loss.
Coronavirus Cake/ Virus Cake
And, amidst all that, Prague has found a way to do just that. A little cafe in Prague invented a cake that looks like a picture of coronavirus circulating on the internet. It has been named the 'virus cake'. And the moment it went up on the internet it became not just the talk of the town but the talk of the world with publications covering the news in the US and South Asia.
The café is known as Black Madonna and is located in the historical Old Town District on Celetná street. And ever since the cake went viral, people are flooding that street to get a taste of a non-dangerous edible corona. Well, non-dangerous only to a certain extent considering too much sugar is always bad.
The Dessert Creator
Now, let us talk a little about the dessert itself. Olga Budnik said that in order to come up with the design, the cafe took inspiration from the available photo on the internet. And after figuring out everything about the shape, they decided to put it into effect. The final look comprised of ingredients such as chocolate, pistachio, and raspberry. The chocolate covers the pistachio raspberry filling which is almost a tennis ball size. The white chocolate and dried raspberry constitute the virus spikes.
Olga Budnik in conversation with a publication said:
"I found a photo of the virus on the internet. I figured out in detail how to make the dessert – how to make the spikes, what the colour would be like, and I prepared it all."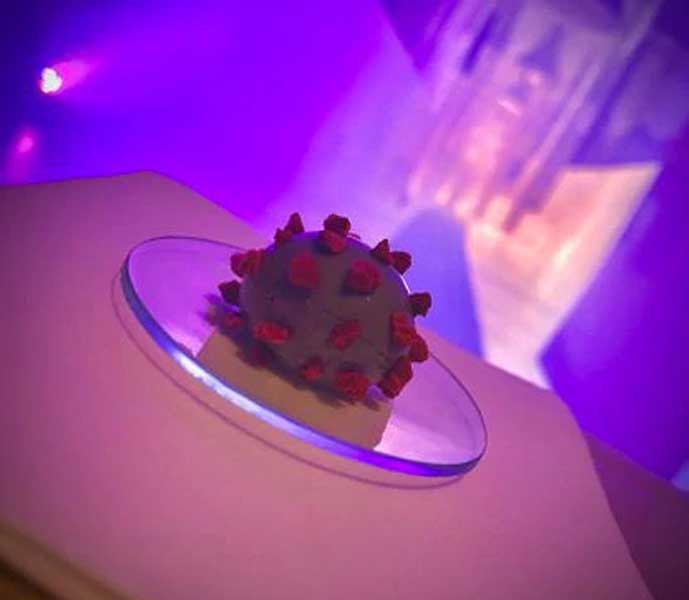 COVID (infecting) Economy
With this new invention, the dessert creator attempts to tackle the current economic slump. The idea is to emerge victorious after the pandemic shook the world. She mentions that this is very important because in entire Europe hits hard with corona, Czech is among the highest infected.
With the cake being viral, the cafe has seen the intended success. In fact, according to Budnik, they are seeing triple-digit sakes each day and it keeps rising. The number of cake lovers keeps increasing. And now the cafe has requested fans to make reservations in case they are coming in groups of three.
Budnik is already planning for her next treat. She hints that it will be around much lime and some alcohol. This one will have a COVID-19 vaccination theme. But will it see as much popularity as the virus cake, we will have to wait and see.
Stay tuned to Brandsynario for the latest news and updates!