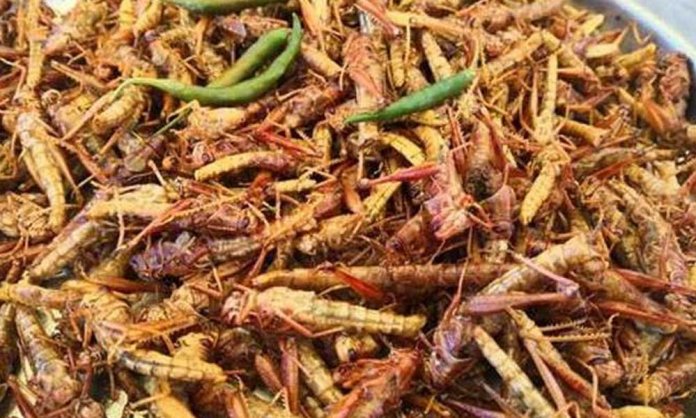 Yesterday, Karachiites had experienced a one-of-a-kind situation where populated parts of the metropolis had been taken over by swarms of Locusts.
The reason behind the sudden appearance of these critters is the sudden change in the direction of the wind and the rise in temperature in the city.
Populated areas including Shahrah-e-Faisal, Malir, Shah Faisal Colony and others witnessed the swarm and made videos of the attack which went viral.
However, what happened next was completely unexpected, Mr. Muhammad Ismail Rahu, the Provincial Minister of Sindh for Agriculture, and Supply and Prices said that Karachiites should:
Not be scared of grasshoppers. One can cook Biryani and Karahai of it. Enjoy grasshoppers dishes and benefit oneself!
EXCLUSIVE: Interesting comments by Agriculture Minister Sindh about grasshoppers – "Karachiites should not be scared of grasshoppers. One can cook Biryani and Karahai of it. Enjoy grasshoppers dishes and benefit oneself", says Minister!#Karachi #TimesOfKarachi pic.twitter.com/sI4BQwNC8g

— The Times of Karachi (@TOKCityOfLights) November 11, 2019
Some agreed to this:
They are halal. They have proteins. They have minerals. They can be fried, roasted, smoked and dried. Karachiites have always prided themselves on the taste and variety of their cuisine. Here is another opportunity to trump Lahoris. Bring out the woks and the frying pans #locusts https://t.co/2965cF6lq4

— Osama Siddique (@DrOsamaSiddique) November 11, 2019
While others were disgusted by the idea:
shame on u for such a stupid and cheap remarks.#Sindh_Agriculture_Minister#GrasshopperAttack#Karachi@SindhGovt1 @ilhussain012 https://t.co/xc1weq4Cit

— Miqdad Hussain Bangash (@MiqdadHussain5) November 11, 2019
These insects had reportedly been served in various restaurants in the interior as a delicacy just last month!
Reportedly, these grasshoppers are prepared before they are thrown into the pot. The legs and the back of the torso are separated and dried in the sun, then the insect is served with fries and biryani.
As disgusting as it may sound to many, grasshoppers actually have health benefits for the consumers. They are strongly recommended for their high A, B, and C vitamin and protein content. Plus, they are halal.
Furthermore, they are an alternative source of fiber, protein, magnesium, and zinc. Eating such insects reduces a human's chances of developing zoonotic diseases such as H1N1 and E. coli, even Salmonella.
Are you willing to try out a new delicacy?
Share your experiences with us in the comments below.