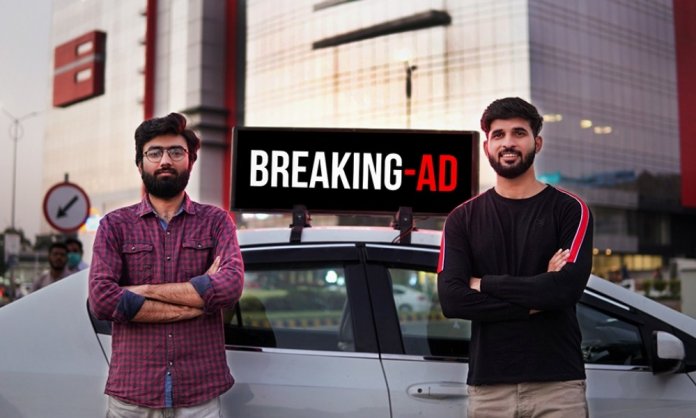 Breaking-ad is Pakistan's first smart outdoor digital advertising agency launched by graduates of COMSATS, Lahore. Keeping in view the geopolitical growth of the city, Breaking-Ad has proudly entered in Lahore's entrepreneurial space.
Through constant research and analysis on new marketing trends, our team at breaking-ad is now delighted to unmask new horizons in the world of advertisement. Our startup works as a liaison between the sellers and potential customers.
While working with us, brands can get instant recognition in their desired neighborhoods within the city. Our Advertisement smart-screens are installed within the ridesharing partner's cab, such as Uber, Careem, and others. Lahore is divided into nine zones.
Our geofencing-based app installed on the driver's mobile device recognizes when the vehicle enters the coordinates of the designated zone and starts playing the relevant Ad for the specific brand. Or this process can be carried out manually depending upon marketing requirements submitted by the clients.
For as long as the vehicle stays in that vicinity, people notice the moving Ad visuals firsthand and are more engaged and curious to explore the offer.
Here's how Breaking-Ad has left traditional ways of outdoor advertisement in question:
The digital screen can be used for endorsing multiple brands at once or during several times of the day, unlike fixed billboards.
Breaking-Ad provides run time analytics to the clients how their campaign is performing across the city.
Our Analytics team keeps sensing consumer behavior from time to time and helps the clients deciding hyper-targeted regions for campaigns.
Our services are highly customizable and cost-effective
Our business model generates an extra income stream for the drivers who sign up for a part-time or full-time partnership with us.
We are the first introducers and only original name in the country for a ridesharing Advertisement venture.
Brands have been making their presence felt by the consumers both on digital and print media. Most of their spending is ignored or forgotten simply because it is all over their face every time.
People also know this because an internet ad is shown to everyone separately on their mobile phones or laptops based on the cookies they send. Since there is little to no expense involved, there are millions of them.
On the contrary to this, outdoor advertisements are open to everyone at a time and have some evident investment involved in the physical set up; therefore, they can't be unreal. Hence people are more likely to engage with what they see, and they become a real prospect for the company at the end of the day. Accordingly, Breaking-Ad has adapted a central Guerilla Marketing model that doesn't push your product to any random walker. Instead, it grabs the attention of people where it is needed the most.
After seeing an exceptional response in Lahore this year, Breaking-ad now aims at expanding its presence throughout the country very soon.
For more details on how we work, please visit Breaking-Ad.