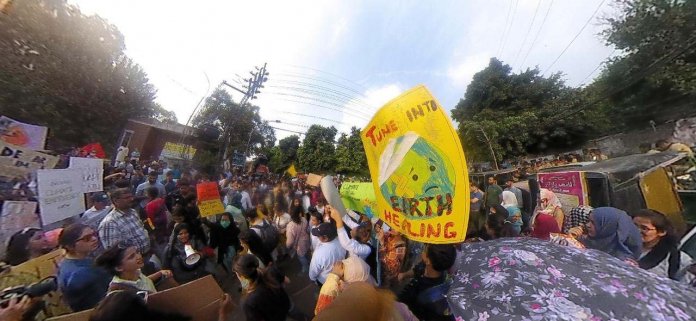 As vulnerable as Pakistan has been to global climate change, Pakistanis have continued to live in ignorance of climate and the impact of their actions on the climate for a very long time.
However, as much as they'd like to, the climate crisis is not one they can afford to be oblivious to.
According to Abdul Rafay Alam, Environmental lawyer,  our current Nationally Determined Contribution to greenhouse gas reduction is a trajectory to increase emissions by 400% by 2030.  'Business-as-usual' models are now showing a possible global temperature increase of 4 degree Centigrade by the end of this century. There will be little or no agriculture in Pakistan by then.
Although currently we have seen businesses and brands beginning to take action to battle the issue by introducing environment friendly bags after the government put an official ban on plastic bags, the issue still isn't a major part of the conversation.
In #Pakistan effects of #ClimateChange & #environmentalextremes hitting communities. #Water shortage being felt by urban & farming communities. Pakistan among 10 most affected countries w/ fatalities and economic losses due to #extreme #weather #ClimateActionPk #ClimateMarch pic.twitter.com/tde1bEcTVN

— Osama Bin Javaid (@osamabinjavaid) September 20, 2019
So the world has decided to march today, and so have Pakistanis, even as temperatures in certain parts of the country remain close to 40 degrees Celsius.
Advisor to PM on #ClimateChange Malik Amin Aslam @aminattock addressed the #ClimateMarchPakistan and asked the world for action on Climate Change #ClimateStrike #ClimateAction #ClimateActionPK #ClimateActionNow pic.twitter.com/X0FsIFwwPX

— Ministry of Climate Change, Govt of Pakistan (@ClimateChangePK) September 20, 2019
The United Nations climate summit in New York is happening in a few days, which is why the Climate Action March has been schedules today worldwide.
One of the lead organisers of this march in Pakistan, the environmental group ClimateActionPK, is calling on the Pakistani government to participate in the cause.
Their specific demands include but are not limited to the following:
declaring a climate emergency
demanding climate justice through a global coalition
adopting a low-carbon economy and ensuring climate adaptation efforts at the grassroots
Have a look at what Federal minister for climate change, Malik Amin Aslam, had to say on the subject:
"I would have loved to be a part of it but can't as I will be leaving for the UNSG climate summit. This positive civil society activism bolsters our cause, which is to make Pakistan ready to face climate change and contribute to the global effort towards fighting this challenge."
The march has brands and people from all walks of life, from climate change activists, celebrities, to students who are urging others to join them as well.
We can win the race against climate change, but we must #ActNow.
Join the movement before the @UN #ClimateAction Summit @JMilsom_UNODC @UNODCPakistan @riz38 @antonioguterres @UNFCCC @climateactionpk #globalclimatestrike #ClimateMarchPakistan pic.twitter.com/k1jLpWszT6

— Shehzad Roy (@ShehzadRoy) September 20, 2019
To anyone who has ever said to themselves "you know,one day I'm going to do something for the world, something that will make a difference". Well that day has come, #GoGreen and join us and march for you country in the #WorldClimateStrike #Pakistan #MakeADifference 🌎🌱🇵🇰♻️

— Shaniera Akram (@iamShaniera) September 20, 2019
#Pakistan is already witnessing the impacts of climate change. We can only make an impact if we all play our part.
Join the #ClimateMarch in your city on 20 September to communicate to your leaders that you want practical solutions to the climate crisis. pic.twitter.com/q4WdfW3F95

— WWF-Pakistan (@WWFPak) September 19, 2019
Are you there yet? Let us know!
Stay tuned to Brandsynario for more news and updates.