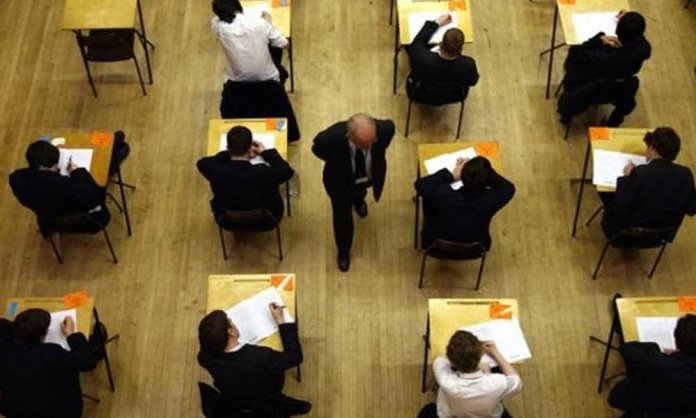 Eid in Pakistan is almost here, and we couldn't be happier! However, the sentiments of CIE students are not exactly synonymous to ours.
While we will be rushing to beauty parlors and shopping malls for last minute Eid preparations, around 55,000 O and A Level students will be preparing to spend their Eid answering academic questions, as CIE has scheduled O and A Level papers on the days of Eid ul fitr, 2019.
To the students' dismay, Sindh's Director-General of Privately Managed Institutions and Inspection, Dr Mansoob Hussain Siddiqui has issued the following statement:
CIE exams are conducted across the world on the same day, therefore once a date has been set, there is no room for change.
Many students have taken over social media to express their grief over the inconsiderate CIE schedule.
Some have resorted to memes to cope with the stress.
Mood for exams on Eid day 😭😭 pic.twitter.com/QbN5LlXYxs

— Aiman Shabir (@aiman_shabir) May 28, 2019
everyone: Eid-

me: GUYS I HAVE EXAM ON EID DAY DO U KNOW HOW SAD MY LIFE IS OMG I HAVE EXAM ON EID IM SAD IM NOT CELEBRATING EID pic.twitter.com/8OQxsGETZb

— hoor (@hoorrulainn) June 3, 2019
While others are raging over how insensitive it is of CIEs to not take their religious holidays into consideration.
I find it ridiculous how are schools and universities still completely unaware of other people's religious holidays. both me and my sister have an exam on eid day which means we can't celebrate with our family. so shocking

— i am iron man (@samarzraf) May 26, 2019
Not only will they miss out on the mehendi trips and sheer khurma tastings, but they will also not be able to attend their Eid namaz.
No henna, no new clothes, exam on Eid, thousands of miles away from home. I'm going to go cry in a dark room 😊

— ✨ (@khadijahgarkuwa) June 3, 2019
Brandsynario spoke to some CIE students and this is what they had to say.
"I am furious that my sociology exam is getting in the way of my Eid festivities. And it deeply saddens me that the British Council has such little regard for our culture and religion." –Iman

"I'm gonna treat my second day of Eid as first because British Council took my first day." –Kinza
Not just students, but their parents are also disturbed by the situation, as the household festivities during this time cannot be enjoyed to the fullest.
Here's what Former HR Consultant at a school (who is also a parent) had to say.
"Most A Level institutes commence their early bird admissions before the students even give their final O level exam, trapping parents and students financially, psychologically and emotionally. Can you imagine the pain parents go through? I am sure with admissions taking place after the O level results, the students would study hard to get best results. With that stress already looming over their heads, they now have to sit in exams on Eid days, unable to enjoy even the most basic holiday that they deserve," 
On the other hand, some are taking it in their stride and praying for the best.
Inshallah my A Levels start tomorrow. Please make dua for me and all the students who have exams 💕 Especially to those of us who have exams on Eid. Good luck to all that have exams 🥰💕

— Fatima💕 (@fatimab_oui) June 3, 2019
Shoutout to the students that have to write an exam or study on the Day of Eid. Your sacrifices don't go unnoticed. May you attain every ounce of success you wish for. ✨

— Zahra (@zaah_mohamed) June 3, 2019
We even got a statement from a teacher about what she thinks about the situation.
Yes, I think it is certainly a valid suggestion that there should be no examinations over the 3 Eid celebrations. This will cover all the time difference around the world.
How do you feel about this?
Let us know in the comments!
Stay tuned to Brandsynario for more news and updates.