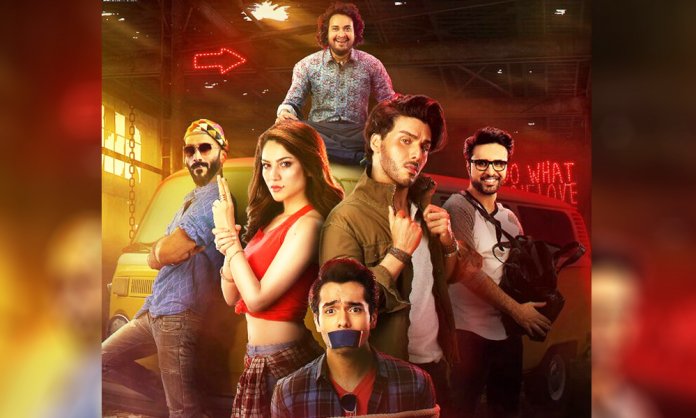 Good things come to those who wait and that's why that all the films that managed to capture the imagination of the audience came out in the last quarter. Unlike Punjab Nahi Jaungi and Na Maloom Afraad 2, Chupan Chupai had everything new about it.
There were new actors, new director, and new producers but the way they titled the industry into the new direction is commendable.
There were some issues with the plot but that happens when you venture into the unknown territory of showbiz.
Synopsis
The film is about a group of misdirected (read jobless) youths who turn to a life of crime and get absorbed into it further when they meet their match.
Led by Babu Bhai (Ahsan Khan) and his girlfriend Pari (Neelam Munir), the team of 5 (Vajdaan Shah, Zayed Sheikh and Ali Rizvi) go for a big catch and later turn to Babu's brother Doctor (Rehan Sheikh) who helps them in their escape.
SHO Choudhry (Adnan Jaffer) then enters the story and find out about the kidnapping scenario, realizing that all is not well.
Analysis
The way all the characters have been categorized is perhaps the biggest plus of the movie. Ever actor looks the part he or she plays, be it the new ones or the seniors. Ahsan Khan looks out of this world in the songs and it was refreshing to see him do comedy for a change.
In her first film, Neelam Munir looks breathtakingly beautiful and acts according to her character. Faizan Khawaja and Ali Rizvi are the surprise packages as one of them gets to play smart, the other idiot and they both do a fine job.
Zayed Sheikh and Vajdaan Shah are good additions to the industry and so is the return of Sakina Samo and Talat Hussain. Rehan Sheikh as Khan aka Doctor displays his comic side to the audience and impresses.
The Background score and Soundtrack by Soch Band (Adnan Dhool and Rabi Ahmed) keep up with the narrative and you don't lose the track of the story which is taken forward by the characters, not by the actors.
Verdict 3.5/5
After a couple films that couldn't do well at the Box Office for one reason or the other, the arrival of Chupan Chupai was like a breath of fresh air. This is the film that comes after a few years and makes stars rather than break them.
Yes, there were moments in the second half when you felt that the film should end but the way it has been packed up is something only Mohsin Ali could have done. The writer-turned-director knows exactly what he audience wants and the way he uses Mere Paas Maa Hai is a lesson for those who want to register their films as outstanding, rather than make money and move from one below par project to another.
The post first appeared at Veryfilmi.com