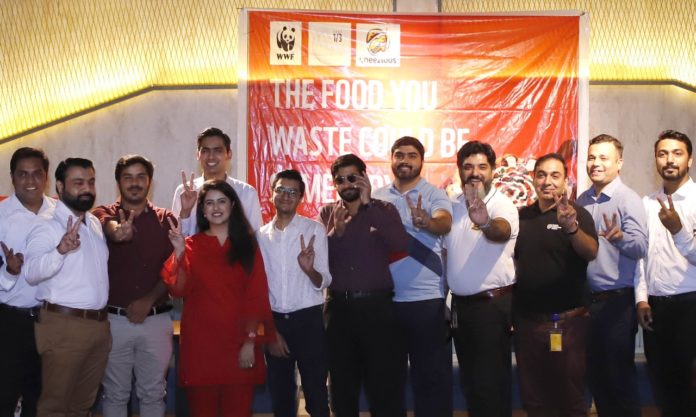 Lahore-26th September, 2023 — Cheezious, a leading name in the food industry, is thrilled to announce its partnership with the World Wide Fund for Nature (WWF) on the occasion of International Awareness Day of Food Loss and Waste. This collaboration reflects Cheezious commitment to social responsibility and its dedication to addressing critical global issues, such as food loss and waste.
WWF Climate and Energy Coordinator Fatima Khan, Marketing Manager Shahzeb Farooq, HRK Regional Director Zarar and Regional Food Safety Head Hisham Bin Shaukat were also present at the event held in Lahore.
Food loss and waste have emerged as significant challenges on a global scale, impacting economies, the environment, and people's access to food. Recognizing the urgency of the matter, Cheezious has joined hands with WWF to raise awareness and initiate action within its communities.
As part of this partnership, Cheezious is organizing an awareness session which will serve as an opportunity to engage, sharing insights on the importance of reducing food loss and waste. Experts from both Cheezious and WWF will be present to lead discussions and provide valuable information on sustainable practices that can be adopted both at the individual and organizational levels.
"Cheezious is committed to making a positive impact on the world, and addressing food loss and waste is a crucial aspect of our corporate social responsibility," said Mr. Zohaib Hassan, Head of Marketing at Cheezious. "Our partnership with WWF underscores our dedication to sustainability and community involvement. We believe that through awareness and education, we can encourage meaningful change and reduce the impact of food loss and waste."
The partnership between Cheezious and WWF is a testament to the power of collaboration in addressing pressing global issues. By taking such initiatives under its CSR umbrella, Cheezious aims to inspire others to join the cause and contribute to a more sustainable future.