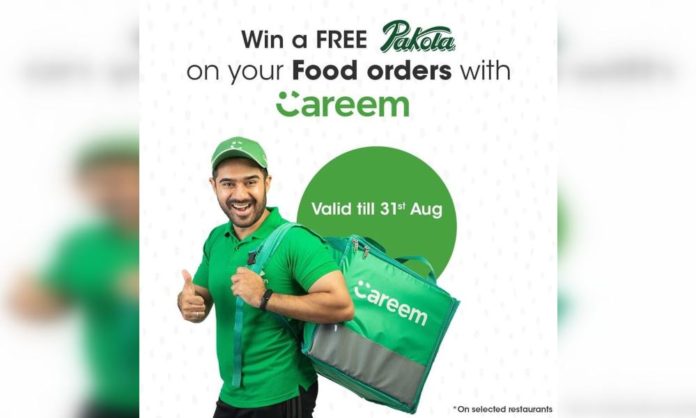 How would Pakistanis spend their day if there were fewer food options? In a country where entertainment is synonymous with dining out, food is actually a part of our identity. We celebrate with food, treating our friends and family to all kinds of cuisines to order in whatever the heart and stomach desires. This Independence Day, as people came together to celebrate Pakistan's 74th year of freedom, foodies had another reason to rejoice: Careem had a range of discounts available to avail when ordered from their app. The Jazba e Bhook food discounts reminded us that they are now a Super App, which means we can now also order food using the app.  
Several popular eateries are offering an array of mouthwatering dishes at discounted prices for the month of independence till the 31st of August. Residents of Karachi and Lahore can use the Careem Super App and get their order at home, steaming hot within minutes!  However, that's not the only thing Careem did that is praise-worthy. With major discounts, the app also gives its Customers  a chance to win a range of prizes, adding to the jashan Pakistanis need for this patriotic and energetic month. When customers order from the app, they have the chance to enter in a lucky draw and win from a massive list of extravagant prizes. There's something to win for everyone, with prizes ranging from smartphones, tablets, TVs to Pakola gift hampers! The catch is, the more a customer orders, the more likely their chances are to win.  
Retracting back to the spectacular list of discounts, some restaurants are offering up to 70% off, making the food items so cheap, one could order in for breakfast, lunch and dinner without hesitation! Some of our favourite restaurants are also on the list that we got to enjoy and some we're looking forward to enjoying, such as Pita- The Shawarma Revolution that has discounted deals on their lip-smacking shawarmas. Red Apple, which has the best kebab rolls in town, is offering a flat 20% off on all items. In Lahore, the sought after Butt Karahi also has a 20% off. Other discounted restaurants include Delfrio, Yoshis, pizza 363, and Jan's broast. Original Mad Cheese, Berlin Donor and Gyro, Red Orchid and Saucy Pizza are off at a whopping 60%! With so much going on in the favour of Careem. What more do we want, right? But wait, there's more? All the mentioned eateries and many more are also sending free Pakolas! Many shared the joy of receiving the free drink with their order over social media. Pakistan's favourite delivery app and Pakistan's favourite drink collaborating together? Yes, please! The green coloured app and the green soda really made many Pakistanis day.
Careem understands that the true way to a legit Pakistani's heart is definitely via their stomach- and the app did not disappoint. With so much Jazba put in to give Pakistanis a reason to celebrate independence month, it is applaudable how well the app delivered in satisfying urges of consumers who like nothing more than pocket-friendly food that is readily available, surprises, and gifts! With the offer valid till the 31st of August, make sure to order from Careem. Who knows what your luck may have in store for you! Could be a Pakola or could be an iPhone 😉