According to a new report by Standard Chartered, failing to invest the basic minimum required to survive expected climate harm will cost emerging nations hundreds of billions in climate damages and missed GDP growth this decade.
According to The Adaptation Economy, which examines the need for climate adaptation investment in 10 markets, including China, India, Bangladesh, and Pakistan, these markets might suffer anticipated damages and lost GDP growth of USD377 billion by 2030, which is more than 12 times that amount.
The projection assumes that the world succeeds in limiting temperature rises to 1.5°C, in line with the Paris Agreement. In a 3.5°C scenario the estimated minimum investment required more than doubles to USD62 billion and potential losses escalate dramatically if the investment is not made.
Examples of climate adaptation projects include developing drought-resistant crops, early warning systems against impending natural disasters, and coastal barrier protection solutions for areas susceptible to flooding.
India is predicted to gain the most from adaptation investment out of the study's 10 markets. In order to mitigate climate damages and lost growth of USD135.5 billion under a 1.5°C warming scenario, the market would need to invest an estimated USD11 billion, which would yield a thirteen-to-one return for the Indian economy.
China could save an estimated USD112 billion in costs if it invested only USD8 billion. And by spending $200 million on adaptation, Kenya could save an estimated $2 billion in costs.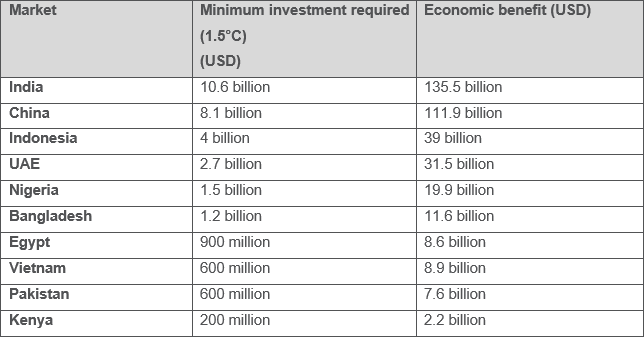 The Case for adaptation
Even if the world's governments succeed in achieving the objectives of the Paris Agreement, the global decarbonization programme must be pursued in tandem with steps to adapt to climate change, with the financial industry playing a crucial role in releasing funds.
The USD30 billion investment necessary for adaptation amounts to much less than the estimated USD95 trillion emerging markets need to transition to net zero using mitigation measures, as detailed in Standard Chartered's Just in Time report, and only slightly more than 0.1% of the combined annual GDP of the 10 markets included in the study.
In a separate study conducted by The Adaptation Economy of 150 bankers, investors, and asset managers, it was discovered that only 0.4% of the capital held by respondents is currently earmarked for adaptation in developing countries, where capital is most urgently required.
However, during the following 12 months, 59% of respondents want to raise their adaption investments. Furthermore, it is anticipated that by 2030, adaptation financing will account for 1.4% of global assets, up from 2022's 0.8% average.
"This analysis makes it apparent that irrespective of efforts to prevent global warming as close to 1.5C as possible we are going to have to include climate-warming consequences into our systems and adapt to its reality," said Marisa Drew, Chief Sustainability Officer of Standard Chartered.
"All countries will need to establish more resilient agriculture, industry, and infrastructure to adapt to climate change, but the need is greatest in emerging and quickly developing economies with a disproportionate risk of exposure to the adverse consequences of rising temperatures and extreme weather."
We urgently need to acknowledge that adaptation is a shared necessity and that, as our study on the Adaptation Economy so powerfully demonstrates, inaction places a shared societal burden of cost that is exponentially rising. In order to steer capital toward adaptation and to establish the evidence that doing so might be a financially appealing proposition for the private sector, the financial sector is essential.