Pakistani javelin champ, Arshad Nadeem, has once again totally nailed it! He snagged a shiny silver medal at the World Athletics Championship in Hungary, sending our country's pride soaring high!
Arshad busted out his A-game with a jaw-dropping 87.82 meters throw on his third shot. Let's not forget his first attempt was a bit shy at 74.80 meters – but that's just how champs roll!
Hold up, the man's mojo wasn't stopping there. On his second whirl, he absolutely aced it with an epic 82.81 m launch. And for the grand finale, he hurled a solid 87.12 m – talk about bringing the heat!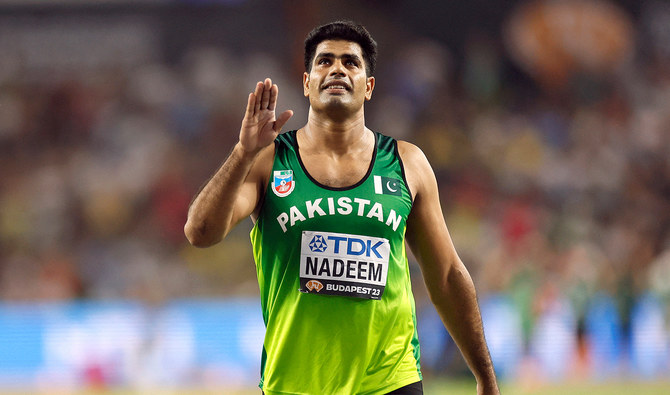 Just last week, he wowed us with a massive 86.79 m throw that punched his ticket to the World Athletics Championship finals and even secured him a golden ticket to the 2024 Paris Olympics. 🎟️🥳
And guess what? The legends of sports and other big shots couldn't hold their excitement either! They flooded their socials to shower Arshad Nadeem with well-deserved cheers and congrats.
Here's the Twitter frenzy that exploded over Arshad's insane victory at the World Athletics Championship in Budapest, Hungary:
What a day! Tiring yet rewarding. Like to thank Allah for this giving me the ability to go this far. This was the first time in the history of Pakistan that any Pakistani athlete won a medal at the World athletics championships pic.twitter.com/DaZDeRNyq7

— Arshad Nadeem (@ArshadOlympian1) August 28, 2023
Congratulations #ArshadNadeem Proud of u. PAKISTAN 🇵🇰 ZINDABAD pic.twitter.com/3ohUrxp3q1

— Mohammad Hafeez (@MHafeez22) August 27, 2023
A proud moment for the country 🇵🇰✌️#ArshadNadeem pic.twitter.com/KGYvMPGBu7

— Ihtisham Ul Haq (@iihtishamm) August 27, 2023
Let's be very clear here. This is Arshad and only Arshad's achievement. No one, especially no official, from the PSB or POA deserves ANY CREDIT for this. It is only possible because of Arshad's hard work and nothing else 🙌🏼👏🏻🇵🇰🫡 #ArshadNadeem #WorldAthleticsChampionships pic.twitter.com/8WE5b3ha7H

— Azeem Siddiqui (@aze3msiddiqui) August 27, 2023
Stay tuned to Brandsynario for the latest news and updates.