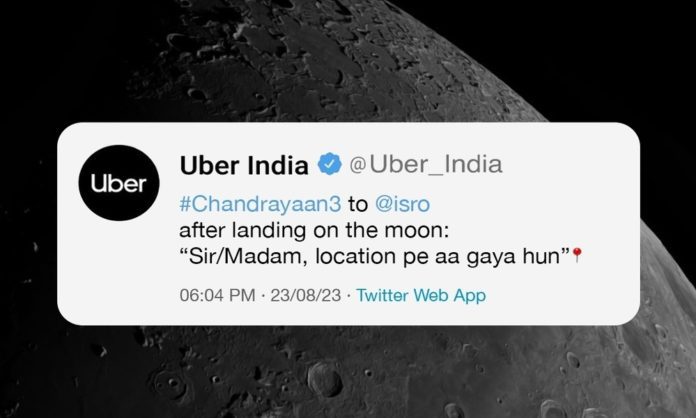 India is over the moon with its latest achievement but not in a metaphorical kind of way. India landed on the moon this week and the brands are celebrating one of India's biggest wins to date.
This amazing accomplishment, which comes four years after the tragic loss of Chandrayaan-2's Vikram lander on the previous attempt, is evidence of India's unflinching dedication to progress and innovation.
Indian brands joined in the celebration as the news of the lunar landing spread quickly, showing their pride and support for ISRO's achievement. Now that the anticipation is at its peak.
Here are some of the brands and marketers celebrating India's win in their way.
Myntra
Netflix India
Read More: Bollywood Star Suniel Shetty Meets Shahid Afridi And His Daughters
Mcdonald's India
Shaadi.Com
Blink It
Domino's India
Tide
Zomato
Lay's India
Kurkure India
Snickers India
Uber
Snap Deal
According to cosmologist Tarun Souradeep, who is the director of the Raman Research Institute in Bengaluru, India, the achievement is a "powerful, emphatic restatement of India's growing global stature and capability in science and technology." It will motivate scientists in India to take the initiative and take center stage in the emerging and inevitable global quest for Moon-based scientific and technological enterprise.
Read More: AirSial Expands: More Pakistani Cities Get Flights To Saudi Arabia
Stay tuned to Brandsynario for the latest news and updates.