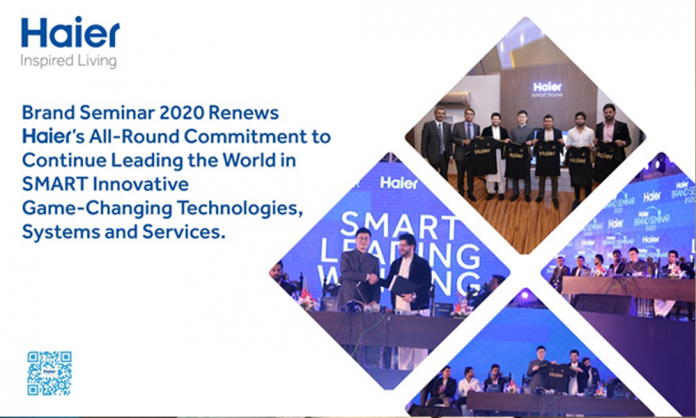 740 views
Haier Brand Seminar 2020, attracted the brand's dealers from across the length and breadth of the country.
A brand seminar is a major event in Haier's Marketing Calendar during which the previous year is reviewed and New Year product launches are announced. Haier being the Global No.1 brand celebrates its phenomenal success both on a global scale and here in Pakistan as the #1 choice of home appliances for consumers.
This year's theme for the brand seminar is "SMART, LEADING, WINNING'.
SMART in this year's theme has multiple meanings. For consumers, it stands for Haier's continued commitment to providing Smart Products and Smart Solutions for Smart Homes and lifestyles.
For Haier's dealers, it means Smart connection to Haier's advanced management system for instant access to accurate statistics on inventory, stock checking, ordering and account information, product availability, pricing and delivery times.
LEADING denotes Haier's pioneering spirit and the Brand's commitment to progress and innovation, in its challenging endeavor to stay on top of the world market by proving high quality, innovative products, and services designed to meet the ever-changing needs of the consumer.
WINNING stands for providing all stakeholders in Haier's extended family including consumers, dealers, resellers and Haier employees with products differentiated by their advanced technology, innovative systems, and a safe operating environment.
This is backed by a sense of deep commitment to the welfare of communities we live in and serve; as reflected in Haier Pakistan's well-defined policy of Corporate Social Responsibility (CSR).
This year's Haier Brand Seminar 2020 brought a whole range of interactive Smart Products, Smarter Technology, Smart Services, systems, and platforms. Haier ensures that every one that is connected with the Haier brand including Haier customers, Haier dealers and Haier employees win.
The Air Solution providers; Haier AIR CONDITIONERS and Haier COMMERCIAL AIR CONDITIONERS, are engineered to provide complete Air Solutions. These include breathable air that is free from dust and pollution for healthy living, energy-saving with smart inverter technologies and much more.
In the cooling industry; Haier REFRIGERATOR has come up with a Digital Inverter that is the real inverter.  This enables Haier refrigerators to operate on extremely low voltages and deliver peak cooling performance. Haier DEEP FREEZERS utilize advanced inverter technology and provide measurable energy savings. The glass door makes them an outstanding user-favorite.
Haier WASHING MACHINES incorporate the One Touch Solution to enhance the performance of the Haier washing machine for a better wash. It has a smart double drive inverter, 360 waterfalls, and dual spray to enhance the look of your clothes.
Haier's LED TV's with Android AI Smart life takes home entertainment to new heights of family enjoyment. They come equipped with the specially created Android Device IoT Hub to enable a reliable connection to the Internet.
Haier COOKING brings a specialty chef and safe cooking to your home. Now cooking will be healthier and consumers will be able to enjoy a professional baking experience.
Haier is making new milestones for achieving new levels of smarts products. In the year 2020 more smart products are arriving in the market and consumer's lives will become more convenient with our latest Smart Products featuring even smarter technology.
Haier has always focused on bringing greater ease in the life of its consumers and proved that it is a brand that matches the standards of the growing and evolving industry. So be a part of Haier and be Inspired.