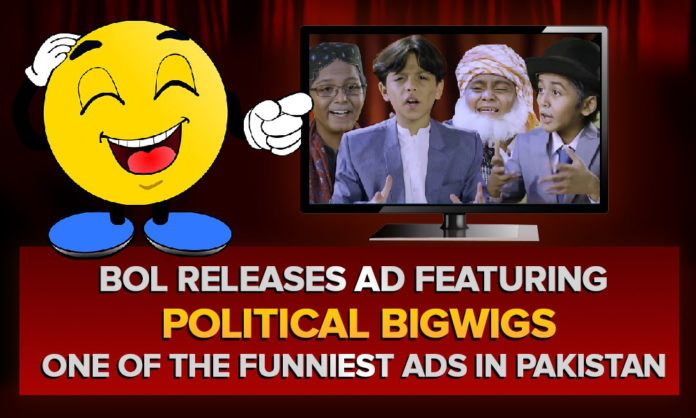 The wait is finally over as BOL has finally released one of the funniest advertisement of Pakistan featuring some of the biggest political bigwigs in the country.
The media channel had previously released a teaser featuring Imran Khan, Shehbaz Sharif, Asif Zardari, and Maulana Fazal-ur-Rehman in a comedic mood, leaving viewers guessing what was brewing and eagerly waiting in anticipation.
Now the wait is finally over as BOL has released the full advertisement. The highly creative and comedic advertisement has hit the screens and garnered immense interest and has been praised for its creativity.
The full advertisement has also laid to rest the rumour mills that the politicians will be appearing on screen together for the first time. Rather it shows their characters in a comic mood.
The rib-tingling advertisement shows the political characters squabbling over watching their favourite channel and gaining control of the TV remote.
After Maulana Fazal-ur-Rehman, Shehbaz Sharif and Zardari make sarcastic comments, Imran Khan suddenly appears and brushed them aside to regain control.
While using his famous catchphrase, 'Are we servers' (hum koi ghulam hai?), Imran Khan refuses to hand over the TV remote to watch the channel of their choice.
Instead, he quips, "We will only watch Pakistan's No.1 channel Bol who is fighting the war for Haqeeqi Journalism'. He adds, 'No one except Bol is standing up for Pakistan. Watch Bol".
The history of advertising in Pakistan is filled with funny and innovative ads. Many of these are still remembered due to their sharp wit, humour and creativity.
An excellent example is the Dentonic ad in the 90s which is still fondly remembered. Not to forget the ads of other electronic and cellphone companies that we grew up with.
This is perhaps the first time a channel had released an advertisement with a comic vibe. It not only keeps viewers impressed but is also an excellent depiction of the current political scenario in the country. This ad is certain to make a place in the most iconic advertisements in the country.