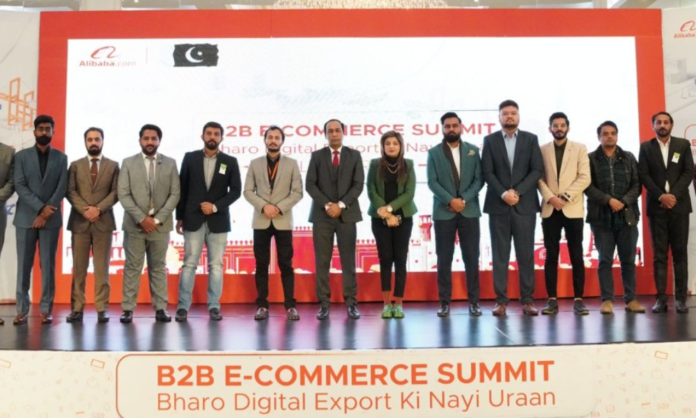 Today in Lahore, 20 January 2023 – Alibaba.com, a leading platform for global business-to-business (B2B) trade, hosted "B2B E-COMMERCE SUMMIT. "Bharo Digital Export Ki Nayi Uraan – Lahore Se" which would facilitate Pakistani exporters' understanding of and access to the global B2B market.
The Summit 
The event featured a line-up of speakers from Alibaba.com as well as prominent industry leaders from Lahore. It included Miss Amy Li, Marketing Head of Alibaba.com Pakistan; Mr. Rana Mansoor Qadir, Former Executive Member – PAAPAM, Mr. Hafiz Ahmed, Ecommerce Influencer and CEO of Ecomrades, and Mr. Shahbaz Siddique, Alibaba.com Certified Trainer.
During the event, global consumer trends in the food and agricultural sectors which have had an implication for export from Pakistan were discussed. According to a statista.com report, consumer spending in the global food and beverage market amounted to US$8.66 trillion in 2022. It will rise by 7.0% per year from 2019 to 2025. Asia accounted for the greatest profit share of the industry in 2022, with a market volume of US$4.3 trillion. For Pakistani exporters, rice is a promising and significant category.
At the event, it was also revealed that the top buyer markets in the agriculture category on Alibaba.com include the United States, the United Arab Emirates, and Bangladesh. Among the top buyer markets in the food category are the United States, Bangladesh, and Turkey. Pakistan is also a major buyer market in both categories.
Talking on the occasion, Mr. Rana Mansoor Qadir, Former Executive Member – of PAAPAM, said: "We are thankful to Alibaba.com for its efforts to open newer avenues for local businesses to enhance their sales and profitability. The world is changing fast through digitization; therefore traditional businesses should also change for good. Through Alibaba.com's global platform, our businesses can access markets all over the world and contribute effectively to the national economy."