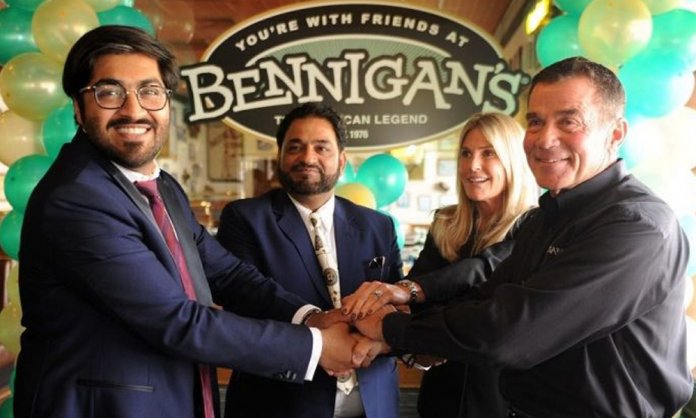 Bennigan's has long been one of the most popular American restaurant brands across the globe. Its focus on chef-driven food, innovative drinks, and friendly Irish hospitality has helped it stand apart from other concepts that have come and gone over the years.
On St. Patrick's Day, Bennigan's – the largest Irish-themed casual dining brand in the U.S. – executed a Master Franchise Agreement with Baila Group of Companies to open four locations in all the major cities of the Islamic Republic of Pakistan. The first of these locations are expected to open within a year's time in Punjab, Pakistan.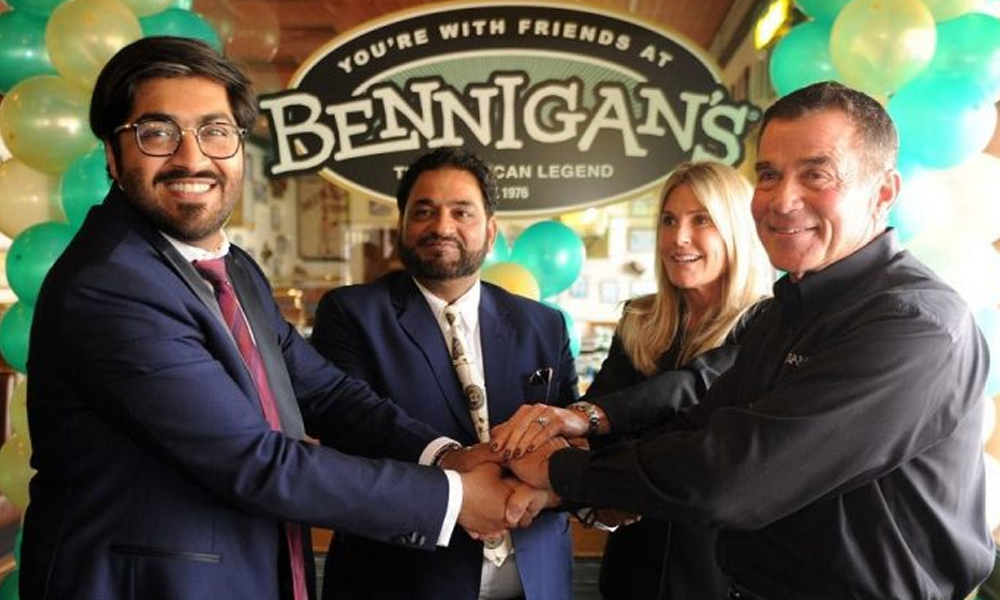 benni
The current plan is to expand into the Islamic Republic of Pakistan, but the Baila Group of Companies is also looking into the growth and demand of bringing Bennigan's into other central Asian markets.
"We are confident that Bennigan's will be enthusiastically embraced in Pakistan," said Junaid Parvez, Deputy Managing Director of Baila Group of Companies. "We chose to franchise with Bennigan's for a variety of reasons. Bennigan's has an impressive history of success internationally thanks to its distinct atmosphere, architecture, and the food is truly phenomenal. The brand has a very compelling ROI and offers a world-class level of support and training. Possibly the biggest reason for why we chose Bennigan's was because of the heartwarming memories that I cherish from frequently visiting Bennigan's when I was a child. We want to share those memorable experiences with everyone in Pakistan."
The Baila Group of Companies is based in Sialkot, Pakistan. Its main business includes agriculture, rice processing and export, and ceremonial halls. The owners of the Baila Group also have a prominent presence in the construction industry of the state of Qatar.
"The Pakistani market is limitless," said Parvez Iqbal, Managing Director of Baila Group of Companies. "And all of us Pakistani's that are overseas have an obligation to show the Pakistani people what the world has to offer."
The menu in the new restaurants will be strict to Pakistani culture and religion. The entire menu will be Halal; pork and alcohol will not be offered.
"We simply couldn't ask for a better franchise partner than Junaid to introduce our brand to Pakistan," said Paul Mangiamele, Bennigan's President & CEO. "Bennigan's is one of the few American brands that is just as popular overseas as it is at home. That's because of extraordinary franchisees like Junaid who have a passion for 'bleeding green' and understands the importance of delivering memorable dining experiences to every guest, every meal, every day."
The chef-driven neighborhood restaurant chain renowned for its generous portions and Irish hospitality is redefining casual dining across the United States and in locations throughout Mexico, Central America, Asia and the Middle East.
Since the end of 2012, the company has opened new franchise locations in Clarksburg and Frederick, Md.; Sacramento, Calif.; Melbourne, Fla., Lexington, Ky.; Veracruz, Mexico; Larnaca, Cyprus; Obarrio, Panama; Doha, Qatar; Dubai, UAE; and a corporate location in Panama City, Fla.
Additional restaurants are planned for Florida, Tennessee, Texas and South Carolina; and internationally in Mexico, Central America, Bahrain, Australia and India