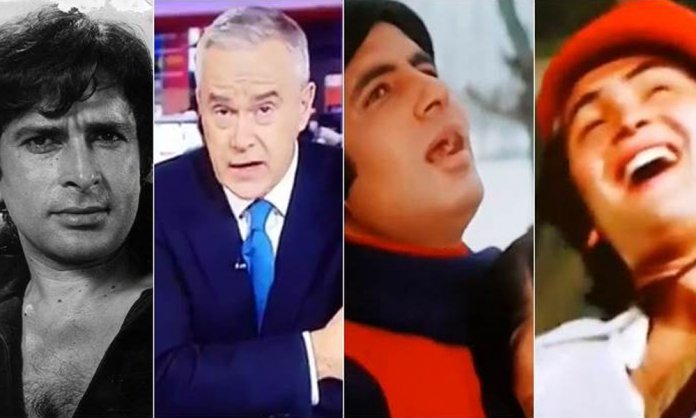 The demise of veteran Bollywood actor Shashi Kapoor has left the world of Bollywood lovers in mourning. The actor passed away last night at the age of 79 after a prolonged illness.
Wrapped around his death started a controversy due to British news channel, BBC which wrongly reported Shashi Kapoor's demise in their news story. BBC has now been accused of 'racism' by various media outlets and by people over social media due to it not being able to differentiate between two 'brown' actors.
Mail Online and the New Zealand Herald were among the many outlets that mentioned BBC being accused of racism!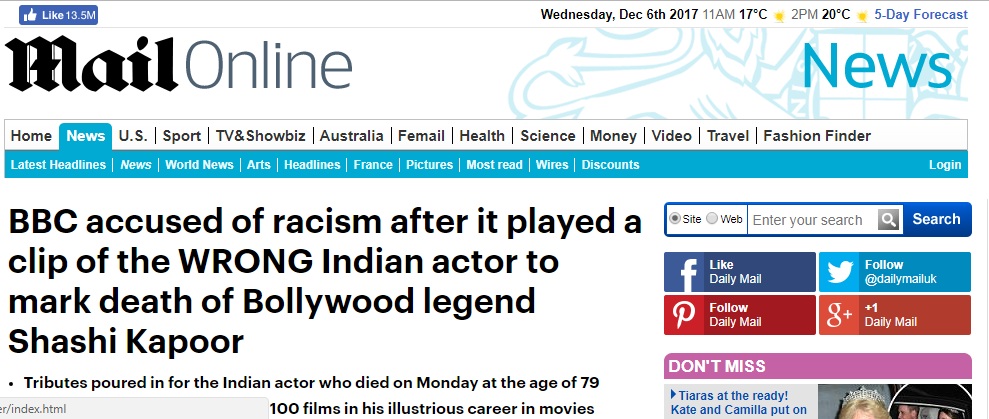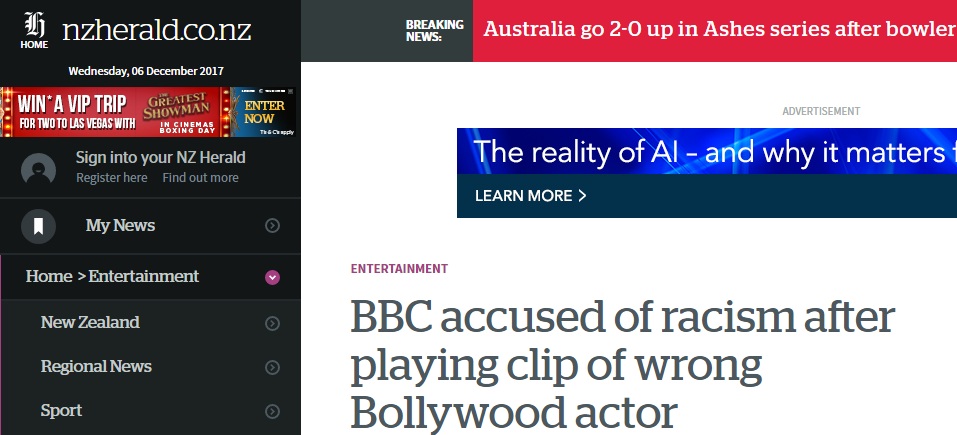 While some believed it was highly unprofessional, others called it offensive and racist on BBC's part.
So lazy and unprofessional. Would you let a mistake like this pass @BBCNews if the actors were white?

— Farzana Shain (@FarzanaShain) December 5, 2017
Because we look the same. Racist!!

— Navahra Lindsay (@NavahraLindsay) December 5, 2017
It's like Michael Caine died & Indian Telly shows images of Sean Connery & Hugh Grant instead.

— T (@shimgirl_) December 5, 2017
"So you think us all look the same?" Unfuckingbelievable!

— Priyesh Patel (@mynameispriyesh) December 5, 2017
Shows the quality of reporting, Times reported Shashi Tharoor and you showed video clips of two different actors!!

— Ban Padmavati (@PaiNeeyati) December 5, 2017
Why would you not have checked and confirmed that news piece with someone of Asian heritage to confirm that? What an absolute joke. The only interpretation of this is that you think everyone brown looks the same and you don't have enough diversity🤦🏽‍♂️ so offensive.

— Ams (@soulseared) December 5, 2017
This what the journos probably googled and eliminated the other two because they look young and thought hmmmm must be the guy in the middle. Don't you have any diversity at @BBCNews who can atleast HELP verify the story?! Very poor respect. #BBCNewsTen pic.twitter.com/vXAvzl5vKR

— Bhav (@B_Lachani) December 5, 2017
How did it happen though? Would you show images of Sean Connery and Edward Fox from A Bridge To Far if Michael Caine died for example?

— Dharmesh Rajput (@dharmesh_rajput) December 5, 2017
The sad, disgraceful truth is that had a white actor died, you would never have used the wrong photos. Pathetic apology.

— Slimshady (@Slimshady1961) December 5, 2017
This is the film the BBC clip used. Considering @SrBachchan was the BBC star of the millennium, one would think he would be readily recognized. This makes me question how much research is actually done when reporting minority stories. @chintskap and @SrBachchan owed an apology pic.twitter.com/V3Ud78ZUnk

— N.J.Qadir Chaudhry (@njqrn) December 5, 2017
Amitabh Bachan and Rishi Kapoor were shown instead of the veteran actor in the story, this caused quite an uproar amongst fans. The clip from the famous movie, 'Kabhie Kabhie' was played on BBC news a 10, surprisingly leaving out Shashi Kapoor from the story!
The BBC News Report shows Amitabh Bachan and Rishi Kapoor 
Hang on @bbcnews Shashi Kapoor has died not Amitabh Bachan or Rishi Kapoor, who you've weirdly used to illustrate the story. pic.twitter.com/48jo6DGjU6

— Media Diversified (@WritersofColour) December 4, 2017
People definitely admitted that this was the biggest blunder caused by the BBC!
Lack of knowledge & research…if you dont know the news in and out dont telecast….reporting standards should be strict and punishable

— Swapna Kashyap (@SwapnaKashyap) December 5, 2017
Perhaps an English reference will help @BBCNews: he was husband to Jennifer Kendall and brother-in-law to Felicity Kendall. He starred with her in the 1965 Merchant Ivory film 'Shakespeare Wallah'.

— Fauzia Ahmad (@brisofa) December 5, 2017
The Sarcasm in these tweets was at an all-time high!
And to be fair, they both have the letters 'A' in their name so relatively easy mistake to think they are both Sashi!

— Hafsah Aneela Bashir (@Hafsah_A_Bashir) December 5, 2017
But in the days of the internet and IMDB? This is beyond incompetent…

— Samar @TheMJAP (@TheMJAP) December 5, 2017
BBC editor then tweeted an apology to the masses and here's how people reacted!
Someone at the BBC thought the brown person in this VT is the same person. Worse still neither of them are the deceased actor Huw refers to. It's poor when it would have taken them seconds to verify. Not enough care. https://t.co/iFARRcqe19

— Adil Ray OBE (@adilray) December 4, 2017
i apologise for any upset…. I don't think that makes any sense. Doesn't even feel like your apologizing. Feels as if a robot just typed that and put it up.

— CyberShotMo (@CyberShotMo) December 6, 2017
@paulroyall @BBCNews @JohnSimpsonNews a formal apology in the news channel would be good for such a major error by a reputed news channel. Don't stop just with a tweet

— AKS (@singdian) December 5, 2017
Google is everyone's best friend, isn't it?
Wouldn't have been difficult to check. A simple Google search would've avoided this, obviously. I know mistakes happen but seems more disappointing & disrespectful when it occurs whilst covering news of someone's death. Still, hope heads don't roll tho because, mistakes do happen

— Missy (@Ms_tweetz) December 6, 2017
Have anything to add to the story? Let us know in the comments below.
Stay tuned to Brandsynario for latest news and updates.