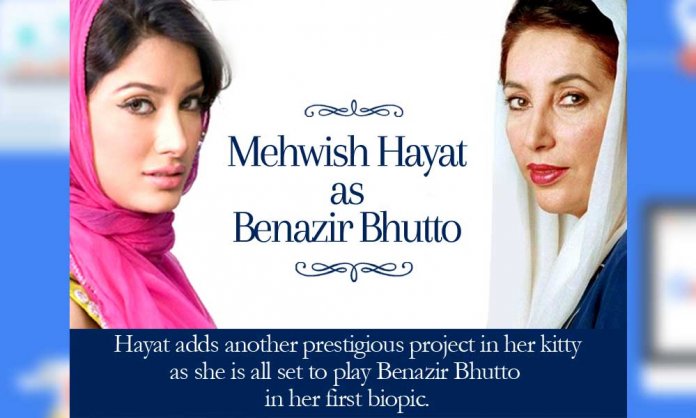 Talks of Mehwish Hayat playing Mohtarma Benazir Bhutto (late) aka Bibi in a biopic rose when Tamgha-i-Imtiaz winner Mehwish Hayat was asked about her role.
The late Pakistan Prime Minister was the first woman to head a democratic government in a Muslim majority nation.
She held the post from 1988 to 1990 and again from 1993 to 1996 before being assassinated just after addressing a public rally.
The actress did not officially confirm the rumors back then, but a year later she opened up:
"It is being written right now, it'll take some time, but I cannot wait to play [Benazir Bhutto]. I've been reading up about her and the more I read, the more I get inspired… The world needs to see her story."
Many thought Mehwish was a great pick for the role, considering how well she has performed in her past few movies (Load Wedding, Actor in Law for e.g.).
However, the daughter of Pakistan's only female Prime Minister Benazir Bhutto doesn't quite agree.
Certainly no consent from her living heirs/children was sought. Absolutely unacceptable and we will be taking action against it. https://t.co/onq9F4xgYT

— Bakhtawar B-Zardari (@BakhtawarBZ) June 22, 2018
Bakhtawar seems upset that no consent was sought from her, and therefore plans to take legal action against it.
She knows we haven't consented. I threatened her with legal action 2 years ago on Twitter now again she's brought up this film. Regardless of location we will seek legal action
Here's what Bashir Riaz, the spokesperson of Bilawal House as well as Chairman of Bhutto Legacy Foundation said about the matter in an interview:
"No permission has been given by the heirs of Bhutto for any such biopic."
Hayat, on the other hand, doesn't think any sort of legal consent was required to begin with.
"I am under strict NDA to not reveal any details about the project or who is involved. What I can let you know is that it is not a Pakistani project.

My understanding of the legal position in the West is that no formal consent is needed from living heirs to make a biopic. However, when the project is further down the line, I will reach out to the family."
What are your thoughts? Let us know in the comments!
Mehwish Hayat Shares Her Childhood Photo To Give an Important Message for Children
Stay tuned to Brandsynario for more news and updates.