Before the new year dawned, Babar Azam's image was smeared in the mud by the revelations of a woman who made huge claims against him. Call it the new year, new me, or a change of heart, but the woman now takes back her words.
The Pretext Of The New Stand
In December, a woman named Hamiza took to social media to speak at length about her illicit relationship with Babar Azam. Their relationship dates back to when he had no job and or money. Hamiza claimed that Babar Azam not only sexually abused her but also was dependent on her financially. 
She financed many of his needs and claims; she even helped him become a cricketer. She sought justice because Babar Azam apparently did not marry her after all this and left as soon as he joined the national cricket team.
The National Hall Pass 
This scandal obviously spread like wildfire, given that the claims were atrocious. Moreover, Pakistan's cricketers have all had one or more scandals attached to their name, all of which are shocking. As a result, while several people denied these rumours, many also started believing Hamiza.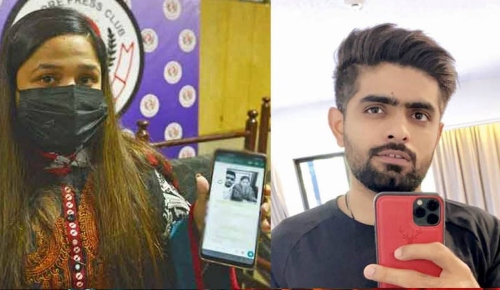 Hamiza also went to the extent of swearing whilst putting her hand on the Quran. She spoke at length about the necessity of doing this the "right" way, too, but how many "right" ways do we have?
Fast Forward To Today
Today a new video has been released by Hamiza, in which she claims the exact opposite. The woman has taken a 180 degrees turn, and there is also no Quran insight — shall we expect one religiously emotional video to back this claim?
Hamiza Mukhtar – I did not have any relationship with Babar Azam and the allegations I made were false pic.twitter.com/3AX02wR4H9

— Saj Sadiq (@Saj_PakPassion) January 14, 2021
Now Hamiza claims emphatically that she never had any relationship at all with Babar Azam. Moreover, she suggests that if any previous claims of her are floating on social media, they do so without her agreement.
What's What?
Though we may not know the truth behind Hamiza and Babar Azam scandal, one thing is for sure. This scandal will bring a bad name to any woman who actually tries to take a stand against any influential man in Pakistan. Just as Hamiza made huge claims but now denies a relationship altogether, others will believe women make claims out of boredom.
This narrative has already started unraveling in the comments under the video. We hope the truth on this matter can come to light!
Stay tuned to Brandsynario for the latest news and updates.