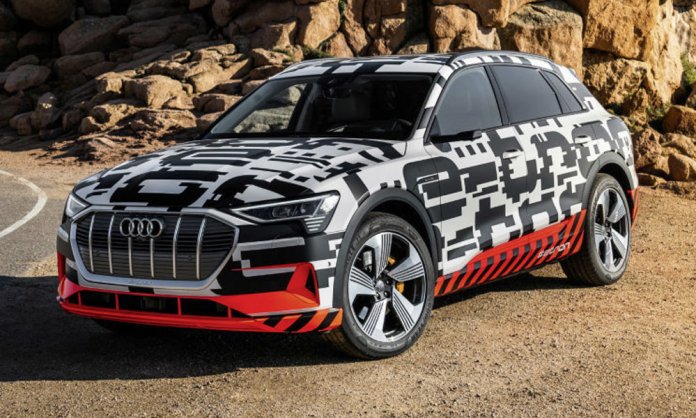 Ahead of a full reveal next month, Audi has released some firm details of its exciting new e-tron electric SUV, including the crucial fact it will have a range on a single charge of more than 249 miles.
Though the e-tron won't be seen in its full glory without camouflage until September, we now know the electric SUV will have a maximum power output of 402bhp, that it will develop 490 lb.-ft. of torque and that its top speed will be an electronically limited 124 mph (200 kph).
However, the maximum ratings will only be available for up to eight seconds at a time, courtesy of a boost mode that unlocks the vehicle's full potential. Under normal driving conditions the two electric motors of the e-tron will develop 350bhp and 414 lb.-ft. of torque, which will be more than adequate for most buyers as it still gets the vehicle from 0 to 62 mph in less than six seconds.
Audi claims that as much as 30 percent of the e-tron's total range is accounted for by energy recuperation, and that the overwhelming majority of recuperation is handled by the electric motors and not the brakes.
A prototype of the Audi added credence to this claim with its recent performance at the Pikes Peak International Hill Climb. After completing the climb, the e-tron prototype then did the 31 km downhill drive and recovered enough energy in the process to cover almost the same distance again.
The recuperation system uses the e-tron's two electric motors and the electro-hydraulically integrated brake control system to contribute up to 30 percent of the vehicle's range.
It manages this by combining three different recuperation modes: manual coasting recuperation using the shift paddles, automatic coasting recuperation via the predictive efficiency assist, and brake recuperation with smooth transition between electric and hydraulic deceleration.
A dual-motor powertrain with a 95 kWh lithium ion battery capable of 150 kW DC fast charging powers the e-tron. This reported charging prowess would be a world-first, and 30 kW more than Tesla's Supercharger network can offer, allowing the e-tron to charge in as little as 30 minutes.
Audi's e-tron will be unveiled on September 17 in San Francisco.