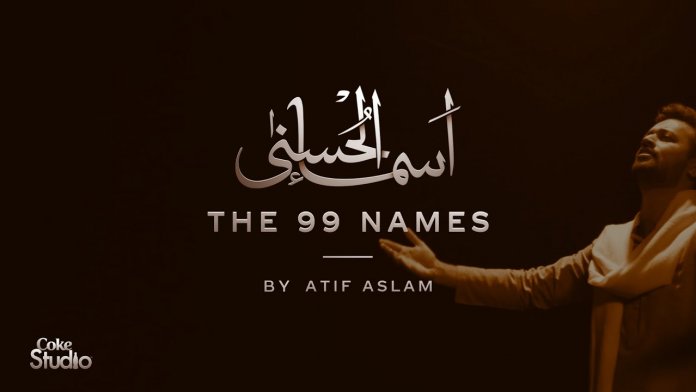 15th April 2020: Atif Aslam has yet again won our hearts with his latest coke studio special, Asma-ul-Hasna's rendition. In this time of distress, the rendition of "99 names of Allah" seems to be touching the hearts of millions of Muslims.
Watch the heart touching rendition here:  
The beautiful rendition that came out in the last Ashra of Ramadan is re-imagined and weaved by Xulfi Video. The video was produced by Asim Raza Mir's "The Vision Factory."
The project included minimum human interaction possible due to the coronavirus. The singers in the background who recorded at home and project studios across Pakistan include the talented Abdullah Qureshi, Arsalan Hasan, Hamza Tanveer,  Adnan Dhool, Sherry Khattak, Turaab Khan, Adil Baluch, Asim Baluch, and many others.
People Seem to Be Enjoying the Coke Studio Special Given the Circumstances




For more news and updates, stay tuned to Brandsynario.
---
6th April 2020: The most sought out singer of the Pakistani music industry, Atif Aslam, took it to his Instagram and shared his recitation of the Azaan with Urdu subtitles and fans on Twitter can't stop listening to it.
The beautiful recitation comes in as the world is fighting with the deadly coronavirus. According to Dawn, 3,278 people are affected by the virus, 257 have recovered, and 48 are reportedly dead in Pakistan due to COVID-19.
View this post on Instagram
The recitation touches the soul and is an undeniably beautiful call for help with Urdu subtitles. Many fans of Atif have taken to twitter to express how beautiful his recitation is.
Got goosebumps after listening Azaan in Atif aslam's voice ❤

— Aisha (@obscured_minion) April 5, 2020
Atif Aslam gives Azaan in his Beautiful Voice this Azaan makes me cry😭
It really heart touching❤ pic.twitter.com/EdtA8OrUL9

— Dream Girl (@humera_hakro) April 5, 2020
Atif Aslam's azaan recitation has left me in awe 😭

— waffler (@sxphia__) April 4, 2020
I Have listen each and every song of Atif Aslam but this Azaan in his voice is best of all❤️ pic.twitter.com/ixF9LYTUgx

— Syed Rafay ツ 🇵🇰 (@The_Malir_Guy) April 4, 2020
Atif Aslam has been very vocal amid the crisis the world is going through in the current time. Earlier, Atif thanked the paramedics, doctors, nurses, healthcare workers, government and official authorities, cleaners, and those producing, delivering, and selling food during times when their job is the most demanding and risky.
Read more here:
Atif Aslam Has a Message for the Heroes Fighting Coronavirous Vigorously
For more news and updates, stay tuned to Brandsynario.