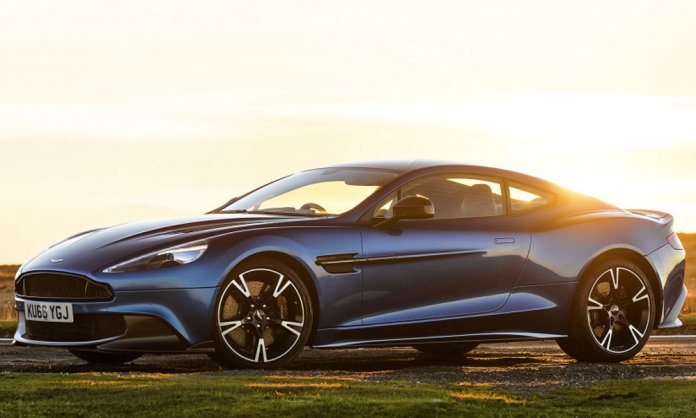 It's certainly not unusual for auto manufacturers to revive successful and much-loved names of the past and reinvent them with a new model, but at least they used to wait long enough for them to become a memory before bringing them back from the dead. Nowadays they come back much quicker, and Aston Martin may be looking to set a nameplate resurrection speed record by bringing back the Vanquish, again.
The Vanquish name first came into our consciousness back in 2001, but it only stayed in production until 2007. However, it was then revived again in 2012 as the Vanquish S before it was put out to pasture again earlier this year. Now it could be coming back again before the body of the Vanquish S has even gone cold as it sounds as though it is going to be used for a future version of the DBS Superleggera.
The DBS Superleggera has recently been shown off to the world's media at press drive events, and the mid-engined Aston designed to take on the likes of the Ferrari 488, Lamborghini Huracan, and McLaren 720 S really does appear to be something special.
When the Motoring publication asked Aston's chief creative officer, Mark Reichman, about the possibility of the new car reviving the name, he admitted,"Without saying yes, that sounds like a plausible solution for a beautiful name like Vanquish."
In the past, the name has generally been reserved for the most powerful models the British supercar maker has on the go at that particular time, but this latest flagship model has moved to combine two highly appropriate monikers of DBS and Superleggera. Reichman said the name "better reflected [the DBS'] positioning than Vanquish."
It all suggests a future Vanquish version will be out to eclipse every model in its segment, and not just those under the Aston Martin banner.
A 4.0-liter twin-turbo petrol V-8 sourced from Mercedes-AMG combined with an electric motor is likely to power a future Vanquish, and Reichman refused to rule out the possibility of the car having an electric motor, e-AWD capability and an element of electric-only driving.
The car would also benefit from the aerodynamic design genius of Adrian Newey, gained through the partnership of Aston Martin with the Red Bull Racing Formula 1 team.
An SUV will be the fourth Aston model after the DB11, Vantage and DBS Superleggera are all on sale, so a new Vanquish wouldn't arrive until 2020.