Asim Azhar has churned out many hits over the years. His song "Jo Tu Na Mila' hit 100 million views on Youtube, which is a club all singers dream of joining. From Pakistan, he's the youngest singer to achieve this victory.
Besides him, it's Rahat Fateh Ali Khan, Momina Mustehsan, and Atif Aslam, who have a seat in that club. However, now the same song is receiving backlash, and the star is addressing the allegations.
Jo Tu Na Mila (JTNM) Is Plagiarised
A Facebook user pointed the similarity out a few days ago, and it blew up. It turns out the soundtrack of JTNM is precisely the same as Studio Ghibli's Kiki Delivery Service. The melody is strikingly, precisely the same as the Japanese films. A Town With An Ocean View's tune (by Joe Hisaishi) can be heard throughout the track. 
How Did Asim Azhar clarify it?
Asim Azhar's defense was quite diplomatic. The singer immediately used the sound card and said that the melody had been acquired through legal means. He said that "that part of the song" has been sampled through proper, lawful means by the producing company. The company that produced Azhar's song was Universal Music India, and according to Azhar, "such a big company" would not let "such a big release go ahead like that." 
What Netizens Had To Say
Asim Azhar soon became the butt of many jokes on Twitter. As is evident by now, Twitter does not spare anyone. When netizens come after someone, they make it rain. Such was the case for Azhar after the story of plagiarism spread everywhere. See for yourself what they had to say!
Asim Azhar copied Kiki's Delivery piano theme in one of his songs what a scam he is.

— Shehroz (@shazyeight) July 9, 2020
so i just get to know that asim azhar copied "tu jo na mila" music from kiki's delivery service & also some music from ghibli, well done sir ap tou mahan nikle.

— Damn wokeup ugly again (@wokeupugly) July 8, 2020
YESTERDAY MY SISTER PLAYED KIKI'S DELIVERY SERVICE'S MUSIC AND IT SOUNDED ODDLY FAMILIAR GUESS WHO PLAGIARISED THE MF MUSIC ASIM AZHAR WITH JO TU NA MILA BRUH I'VE NEVER FELT THIS BETRAYED MY WHOLE LIFE!!

— ᵉⁿᵘ 🌺 #blm (@starryasui) July 9, 2020
If you could sacrifice one singer to end COVID-19,who would it be? And why asim azhar?

— Hitler 👑🇵🇰🇦🇪 (@irtasamchaudhry) July 11, 2020
Asim Azhar's Gratitude 
When JTNM came out, Asim Azhar's gratitude knew no bounds. He was humble, grateful, and loving to all his fans. "100 million views #JoTuNaMila! And it gives me immense honor to become the youngest and 4th Pakistani artist (after Rahat Fateh Ali Khan Saab, Atif Aslam, and Momina Mustehsan) to have two or more songs in the 100 million clubs. Thank you, I love you guys," is what he tweeted!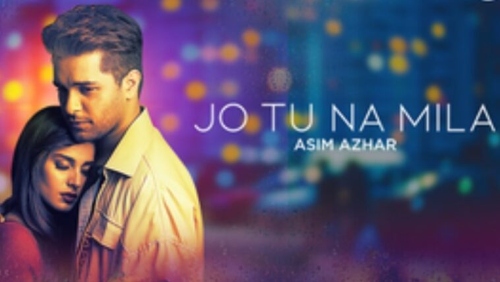 Later, on Instagram, one of his pictures had a caption, "Still can't process it, running out of words. To some people in some part of the world, this might be a regular achievement – but to come from this part of the world, facing obstacles, facing the YouTube ban, it was very hard."
The point remains if Azhar had acquired the track through legal means, why not credit it when the song was released? It seems he reveled in the glory as long as he was not called out. 
Stay tuned to Brandsynario for the latest news and updates.