Rarely do we come across celebrities who genuinely follow upon the "I'd do anything for my fans." But Asim Azhar has proven to be one of them, and we're beyond proud to have a star like him in our country.
Asim Azhar Reaches Out
Osama – @cameramayn – on twitter, tweeted in distress about his grandmother's cancer treatment that was incredibly expensive to pay. He has since taken down the tweet because he supposedly wants to tell updates now.
But then Asim Azhar tweeted in a consoling manner to the fan. Check out the tweet here:
Osama – just dm'd you my number. Koi fikar ki baat nahi. InshaAllah sab hojayega. https://t.co/xBryuAfEPs

— Asim Azhar (@AsimAzharr) August 12, 2020
Since then, Osama tweeted again that he has received the donation from Azhar, and he is beyond grateful.
An Act In Self-lessness
Azhar then proceeded to tweet that he did not do this act to show anything off. After Osama tweeted the good news, people began to praise the star and congratulate Osama.
However, taking all that praise, Azhar tweeted that this only had to happen on Twitter as there was no other platform. However, he's just doing anything he can in his power to give back to his beloved fans.
This is what the star tweeted:
Allah bohat barha hai. Har din hum jaise gunagaar logo ko achai ka mauqa deta hai. Mera maqsad hargiz kisi ko dikhana bilkul nahi hai leken ye zarur hai ke shayad koi aik banda bhi dekha dekhi mai aik aur achai karday. Isse behtar kuch nahi meri nazar mai. 🙏🏽

— Asim Azhar (@AsimAzharr) August 12, 2020
Twitter Reacts
People on twitter are beyond proud to be idolizing a star-like Azhar. Someone who doesn't step back in the hour of need. Before this, there have seldom been cases like this, but we're glad to know a trend is starting!
May God always always bless you Asim…. You're truly a gem❤

— A Y Ś E🌸 (@AyeshayRao) August 12, 2020
Asim apny bht acha kaam kiya allah paak ham sab ko nyki krny ki hidayat dy Ameen

— Mahi Mughal (@mahimug06344822) August 12, 2020
You don't have to explain anything to anybody out there. You're a gem and your fans know that. Lots of love to you! 😊❤️

— kristiiiii🦋 (@sahadianforlife) August 12, 2020
Pakistani awam is sick. Tbh.
Log kuch bhi kahein gy. Allah niyaton ko janta. Keep up the good work.

— mutmaieen af Merida 😌 (@Naureeta_) August 12, 2020
A Relationship Like No Other
The relationship between fans and their idols is unlike any other. Celebrities and icons are people their fans worship and devote their time. Many celebrities don't respond with just as much love and respect too. However, then there are celebrities like Azhar who use their acquired money and fame for proper use.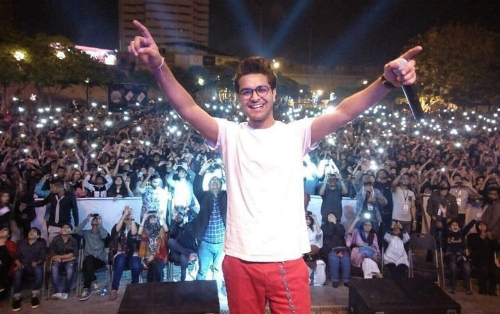 Helping a fan out in his hour of need shouldn't be anything special. It must be normalized!
Azhar recently came under a lot of backlashes when fans found out one of his songs was plagiarised. The star proceeded to clarify that and said the rights of the song had been attained legally. Following that, the entire "friendzone" story with Hania Amir blew up, and he became the butt of many jokes.
Yet, in all that, he remained calm and decent and did not resort to any name-calling. But, what we do love is the "twitter phupos" name he has given some people!
Stay tuned to Brandsynario for the latest news and updates.