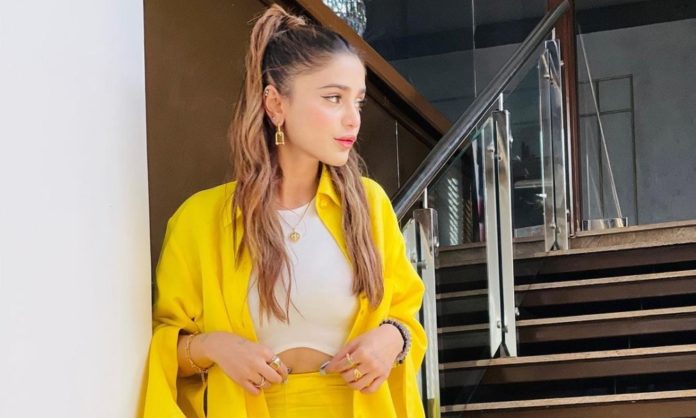 Aima Baig has found herself in the midst of a controversy. Her performance from the opening ceremony of Asia cup 2023 is going viral and not for the reasons you might think. The Pakistani singer has managed to trigger the netizens yet again after choosing a wring outfit for the opening ceremony.
Aima Stuns In Yellow
Pakistan got the chance to host one of the biggest cricket tournaments i.e. the Asia Cup after years of being banned. The opening ceremony which was held last night observed the performances of two singers.
Aima Baig was representing Pakistan, meanwhile, Nepalese singer Trisha Gurung also graced the ceremony with her singing skills. While the focus must have been on the singers' voices and selection of songs, social media directed the debate toward the outfits worn by singers.
While Trisha Gurung wore a graceful white Nepalese traditional dress, Aima Baig dressed up in a bright yellow two-piece outfit paired with a white crop top and that's where she went wrong according to the netizens.
Take a look at her outfit below.
The public outrage on Aima's dress was inevitable, to say the least considering the singer always manages to choose the right outfit for big ceremonies according to Twitter. While the Twitter couldn't help but praise the Nepalese singer, Aima was shut down not just for her singing skills but also for not being able to represent her country properly.
Here are some of the Twitter reactions below.
1- Nepali singer is looking so Pretty representing her culture
2- It would have been better if Aima Baig performed keeping in mind our cultural dress & tradition 🙂#AsiaCup2023 | #PAKvsNEP pic.twitter.com/HKgORmC3qa

— Mian Nafees Saleem (@TheMianNafees) August 31, 2023
Nepali singer Trisha Gurung represents her Country by wearing a cultural dress and our Aima Baig chose to wear western while Being The Host of the Tournament.#AsiaCup #AsiaCup23#PAKvIND #YumnaZaidi #PetrolDieselPrice pic.twitter.com/fY95OPvPEP

— Shizzzo (@Shizzzo1919) August 31, 2023
Everyone is criticizing #AimaBaig dress 👗 as if she had gone for Hajj pic.twitter.com/pjfGpfzGeR

— Shahzaib Malik 🇵🇰 (@ShahzaibMalikPK) August 31, 2023
What are your thoughts on Aima's outfit for the ceremony? Share your views in the comments below.