[Update]: Actress Armeena Khan is one of those few celebrities who take out time to respond to people who comment on her posts and photos. Now, these comments can be of support, or they can be trolls; she gets back at them religiously.
Recently, a supposed 'bold' photoshoot of hers was being bashed. A troll took to Twitter that these photoshoots are the reason for the rapes in the country. Armeena didn't stop and rightfully lashed out at the troll. Because let's be honest, these people are so filthy-minded that clothing doesn't matter to them. Case in point being the Zainab case.
A random RAT is telling me I'm responsible for rapes in his country. How about you just delete yourself from this world, you nasty piece of utter filth! https://t.co/iN0nEpfqKt

— Armeena 🦋 (@ArmeenaRK) January 12, 2021
---
---
Armeena Khan has decided that if Pakistani netizens will come after her anyway, let them come after something exciting! The recent picture she posted in dedication to her husband has flipped people out.
Dedicated Photo
We all love a few dedicated posts here and there, and what better than dedicating one to your husband? Armeena Khan decided on dedicating a bold photo from one of her older shoots to her beau.
The photo shows Armeena clad in a little black dress and daring heels as she strikes a pose for the camera. Though the picture itself is gorgeous and to-die-for, the netizens are not exactly happy!
View this post on Instagram
The Moral Police
The moral police got a whiff of the immorality they were to find in Armeena Khan's post, and they all rushed there to start delivering their fatwas. Several hundred comments about being shameless, immoral, uninspiring, western-inspired, and the list go on. However, when people thought even this is not affecting her, they started attacking her husband too!
Moreover, Armeena Khan has supposedly been getting death threats on Instagram over the photo as well. These are a prime example of the extremity we see in our country. This is where it starts! 
See Comments!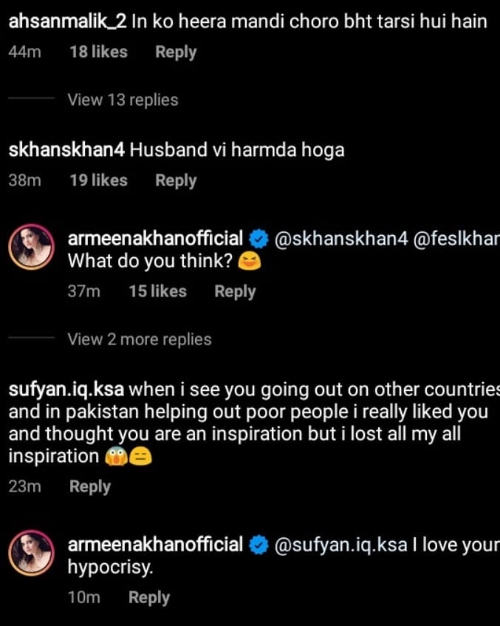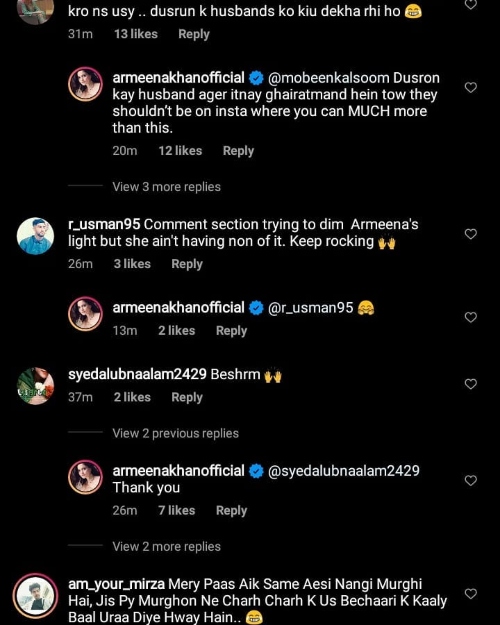 Armeena Khan's Response
Armeena Khan has always responded to trolls in a witty way; she has developed a thick skin from being in the limelight. Even this time around, she did not take to heart any comment. We would even go as far as to say that she enjoys irking the moral police.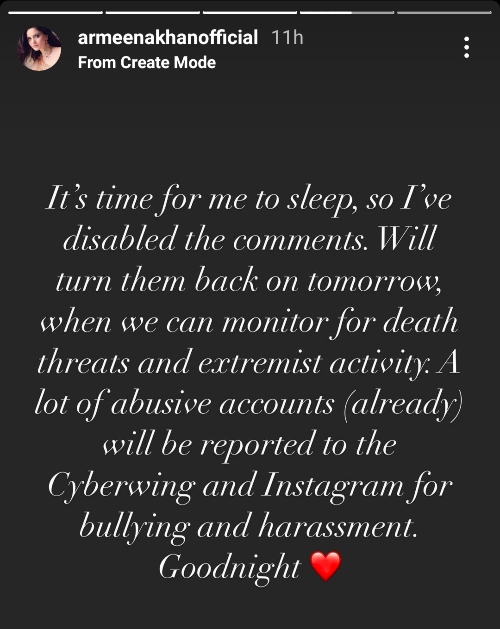 After a while, the comments were turned off as the star had to go to sleep; she does not wish for the post to blow up in her absence. Khan has also been subsequently reporting the extremist comments until then and making sure Instagram suspends them.
Hypocrisy Is Unmatched
The hypocrisy we find in our nation is unmatched. It seems it has become one of our extolling virtues to be a hypocrite! There was a strange comment under Khan's post in which a young man was confessing that he watches porn, but that is still not as bad as this photo. Why? It's because when he sins by watching that, it is between him and God; however, when Armeena Khan sins, it's in front of everyone.
If you lost a few brain cells reading that logic, don't fret. We have lost several too!
Stay tuned to Brandsynario for the latest news and updates.