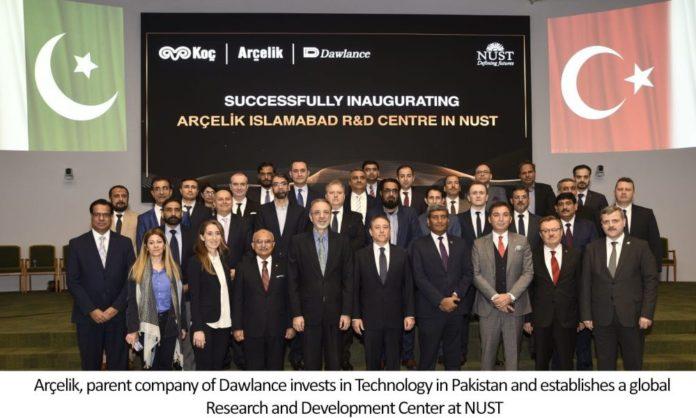 In Islamabad on March 20, 2023, the National University of Science and Technology in Pakistan serves as the second R&D center for Dawlance's parent business, Arçelik (NUST). Arçelik is the second-largest producer in Europe, with operations in 53 nations, 83 subsidiary companies, and 30 R&D facilities worldwide.
Arçelik manufactures cutting-edge home appliance items using cutting-edge technologies in nine different countries. Arçelik opened an R&D center in Karachi for fostering innovations in Pakistan in 2017, shortly after buying Dawlance, and it is now investing again to open an Arcelik Global Research & Development (R&D) Center at the National University of Sciences & Technology (NUST) in Islamabad to speed up its market expansion efforts in Pakistan. The president of Koç Holding Consumer Durables Group, Dr. Fatih Kemal Ebiçliolu, the pro-rector of NUST RIC, Air vice-marshal (retired) Dr. Rizwan Riaz, the chief production and technology officer of Arçelik, Nihat Bayz, the CEO of Dawlance, Umer Ahsan Khan, and Pakistani officials were all present at the ceremony to inaugurate the new R&D center.
This historic agreement was inked at the NUST University in Islamabad by the Chief Executive Officer of Dawlance (Pakistan), Mr. Umer Ahsan Khan, and the Pro-Rector of RIC, Air Vice Marshal (Retired) Dr. Rizwan Riaz. With the help of this effort, highly skilled engineers will train young people in contemporary skill sets to produce a workforce that is competitive in Pakistan.
In the inauguration, Dr. Fatih Ebiçlioğlu, President of Consumer Durables at the parent company of Arcelik – Koç Holding, stated that "Consistently creating value for our stakeholders, expanding and diversifying our global reach, and putting our customers first are the pillars of Koc Holding's vision. We see Pakistan as a key developing market for local manufacturing, R&D, and future export hubs. Pakistan is a very high-potential country in information technologies and is well on track to become a leader in STEM. We believe that the R&D center in NUST will serve the strategic national objective of the country. Focusing on software development, this R&D center, marking first among our 30 R&D centers of Arçelik, will support the needs of all Arcelik subsidiaries worldwide". 
Because of its expertise in research and development (R&D) and dedication to creating sustainable, cutting-edge, smart, digital home solutions, Arçelik holds a prominent position in the worldwide home appliance sector. New products made available to Pakistani consumers guarantee up to 50% energy savings, environmental sustainability, and preservation of the planet's ecology for future generations. While Nature Lock technology extends the life of veggies, decreasing food waste and costs to consumers, Vitamin Fresh technology in refrigerators increases vitamin retention in the fruits and vegetables in crispers. Special washing cycles in Aqua Smart technology help save water. One of Dawlance's cutting-edge technologies is the Blast Air Conditioner, which increases comfort and convenience by providing 30% greater airflow.
All product categories in Dawlance, including refrigerators/freezers, split air conditioners, washing machines, water dispensers, TVs, and small domestic appliances, are serviced by Arçelik's R&D center in Karachi (SDAs). All facets of product design and development, including as structural design, modeling and analysis, system design and testing, embedded software design, and design implementation, are staffed with experts. Pakistan's sole maker of appliances has this capacity.
The CEO of Dawlance – Umer Ahsan Khan stated that: "Arcelik's partnership with NUST – the premier technology institute in Pakistan, shows our commitment to foster technological advancements in Pakistan and enable the professional development of the youth. Arçelik has been making healthy investments to foster research, modernize production and provide the highest quality products. The young engineers at NUST will gain valuable experiences, by learning about Arçelik's global quality standards, regulatory compliance, and best practices." 
The Pro-Rector RIC of NUST – Air Vice Marshal (Retired) Dr. Rizwan Riaz said "We are thankful to Arçelik for working directly with NUST to utilize the research-centric environment of this prestigious engineering institution, to complete its ongoing and futuristic R&D projects. This partnership will enable the development & testing of IT solutions, pertaining to the home appliances category, as Arçelik is expanding its footprint in Pakistan and other Asian countries, to show its confidence in the talents and scientific potential of the youth."
The entire infrastructural & running cost of this venture will be managed by the Arçelik team. This initiative will also help in gaining deeper insights into the local consumer's needs and preferences to develop innovative solutions, based on the needs of the Asian markets. Large volumes of data will be collected & shared with the Arçelik team, for exploring the possibilities to export IT solutions, globally.