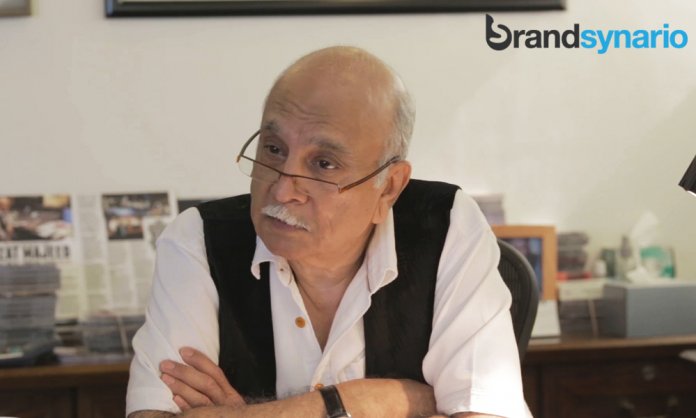 Izzat Majeed is not just the founder of an exceptional ensemble called Sachal Studios but he is also the man responsible for a resurrection of Pakistan's Classical music genre.
In fact, the veteran took his patronage of classical music a step further by incorporating his unparalleled liking for Jazz into the works produced by Sachal Studios. Hence, he created an offshoot of Sachal Jazz Ensemble that has been earning Pakistan a reputable place in the musical front worldwide. It has also introduced a unique fusion concept of Jazz and local classical music.
Much of Izzat Majeed's early life was spent in Lahore that was nothing short of a cultural hub. Therefore, the degeneration of the local artistic culture had left him deeply shaken. This served as his primary motivation to become the savior of Pakistani music through Sachal Studios.
In an interview with Brandsynario Izzat Majeed talked about the various aspects of his musical mastermind.
Of course, the foundation of Sachal Studios and its development was no piece of cake. However, the humble musician claims himself very fortunate in this regard and describes his passionate journey with sheer love.
 We were very lucky. Considering we are an Abbey Road Studio, those guys came to Pakistan bringing their machinery. Then 6 months later they came again, to make sure everything is fine. This is the best set-up.
Even more amazing is the story of jazz's revival in Pakistan via Sachal Studios. Till date, the platform is working hard on its mission and surely has been victorious.
One thing to be noted is the stark difference between classical work of Sachal Studios and that being produced commercially. However, Izzat is not satisfied with the work being done in the music industry.
No – I do not understand what they are doing. I'm sure they also do not understand what we are doing.
You will fall in utter fondness of Jazz, once you hear Izzat talk about it! He vehemently describes the genre, making it clear that the jive is part of his soul
 I'll tell you something, Jazz is the basic frontal in Pakistan and India – there is one basic structure. Even if you leave out the raag, that itself and Jazz itself is the same.  So you play Jazz, pump it in and then play around with it any way you want. Raag is the same.
It is commendable that the work of Sachal Studios has traveled far and wide, receiving international acclaim. Even Hollywood actress, Meryl Streep could not stop herself from swaying and enjoying the performance of Sachal group.
Meryl Streep enjoying the performance put up by @SachalMusic after @SongOfLahore screening in #newyork #pakistan pic.twitter.com/CIqhoIsVoQ

— Sharmeen Obaid (@sharmeenochinoy) November 4, 2015
A few weeks back, Sachal's rendition of Game of Thrones title track went viral. It was adored so much that publications worldwide lauded the harmony and paid their tribute to Izzat Majeed's brainchild.
Izzat surely loves his family and believes that together they have achieved their aim.
Absolutely. I am very fond of my musicians. They're good people and they're good musicians. So they come in and they know exactly what to do and make us proud.