Actress and model, Amna Ilyas is pretty active on her Instagram. She often takes to the platform comic videos. The best one yet was her parody of a TVC of beauty cream featuring Ayeza Khan. It led to a bit of controversy. However, the controversy that kept her name in the gossips for the longest time was her relationship or marriage scandal with Dawar Mehmood.
Amna Ilyas – Instagram
Her videos and pictures made it seem like they were either dating or married. Seeing this controversy, initially, they played along but then they clarified it. They made a video where Amn said that she is only friends with Dawar. Dawar is interested in many girls, she said, but not her. Thus, it became old news. But they are not done with it, clearly.
Recent issue
In a recent post by Amna Ilyas, she is casually dressed and shining all bright. She captions with the photo, an emoji waving at the followers.
Dawar Mehmood comments on the picture, 'Marry meeeeeee.' He attached emojis of lovey-dovey eyes. It is clearly them taunting all the past speculators who had made them out to be married. Amna carries the drama forward by replying to him, 'Show me the ring first.'
Dawar laughs it off!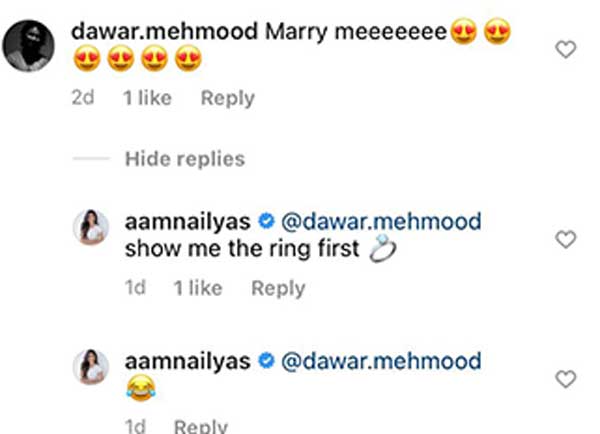 It's dragging now, people!
It is understandable that they were pissed at rumours circulating all over the internet. But they also need to realize that these followers love them. They see how nice Amna and Dawar look together, which is why they suggested it. The suggestion didn't sit well with them so they said no. But it has been a year now. Why do they need to continue with the taunts?
It could be that they saw people get excited, so they are exploiting that angle. But even if you want to keep being in the news, can't you use creative tactics that are at least fun to watch.
Stay tuned to Brandsynario for the latest news and updates!