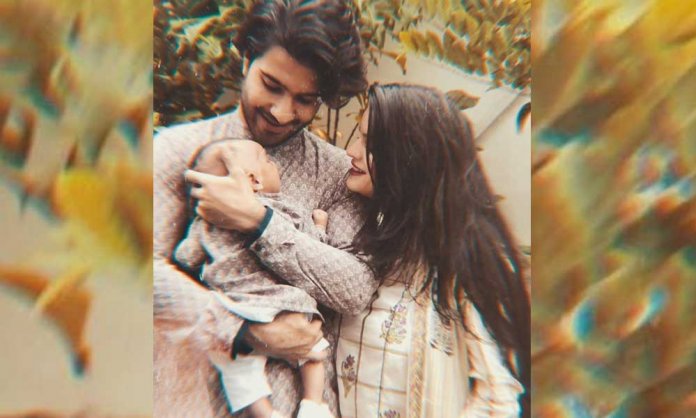 The Tich Button actor Feroze Khan and beautiful wife Alizey, whose wedding inspired an Instagram frenzy were recently blessed with a baby boy.
The two got married just last year and as soon as the news of their wedding broke every one fall in love with the new addition to the Khan family. Feroze and Alizey make such an adorable couple and we admire how they are always appreciating each other on their social media accounts.
We learned that this super sweet couple is gaga about each other after rummaging their Instagram.
Have a look at how they're always on each other's Instagram and are one another's biggest cheerleaders!
1. When Alizey lauded her hubby for his super hit performance in Khaani
And how Khan responded to the post with lots of love. 

2. When Feroze poured his love for his son Sultan and his wifey on Alizey's post
Have a look at Feroze's comment under the picture.

3. When Alizey shared this delightful collage of her pictures with the dapper hubby
And his response is pure love.  

4. When Alizey shared this perfect family still with Feroze's award
Pretty cute right? Yeah, we thought so too.

The Khaani actor Feroze Khan doesn't shy away from declaring his love for the missus either. Have a look at how frequently Feroze posts about his wifey. 
1. Can we please take a moment and applaud these love-birds? 
2. Despite all the jokes, two have an incredible support system and everlasting love for one another! Also, have a look at the caption. 
3. Look at this insanely good-looking couple
4. Isn't it evident that the photos this duo share with the public show an undeniable connection between them? 
In a world that can be full of heartbreak and failing relationships, it's nice to look up to some couples that are making it work. If they can have a healthy, loving relationship amidst all of their fame and chaotic lifestyles, then anyone can!
Tell us what you think about Alizey and Feroze.
Stay tuned to Brandsynario to know all the latest updates.